Priyadarshi Pullikonda Marriage – Tollywood Comedian Priyadarshi marriage with Richa on 23rd February 2018 at Agra. Recently On twitter he his introduced his girlfriend Richa Sharma. Priyadarshi Pullikonda Marriage date and venue details are given here. Also, check Priyadarshi Pullikonda wife rich Sharma photos.
Priyadarshi Pullikonda Wedding Card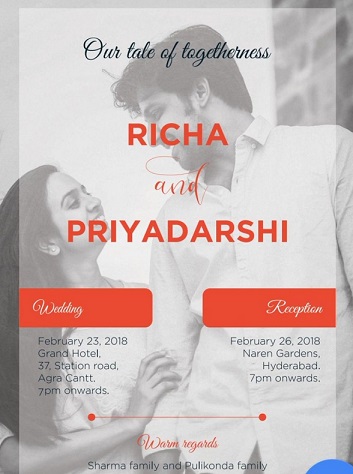 Priyadarshi Pullikonda Marriage Photos
Priyadarshi Richa Marriage on 23rd February 2018 Grand Hotel 37, Station Road, Agra Cantt, 7 pm. Check Priyadarshi Richa Marriage Photos Here.
Priyadarshi Richa Reception Photos
Priyadarshi Richa reception on February 26th, 2018, Naren Gardens, Hyderabad 7 pm. Check out Priyadarshi Richa reception Photos.
Priyadarshi Pullikonda Wife Richa Sharma Photos