Virat Kohli is from multiple points of view a great deal like Sourav Ganguly as Captain. Both are enthusiastic about the word 'aggression', both wear their hearts on their sleeves, and both have an outlook of winning no matter what. Kohli has tasted accomplishment with that state of mind, with a noteworthy Test series win in Sri Lanka, something that even Ganguly couldn't accomplish as skipper. What's more, it is that disposition that Ganguly cherishes about India's new Test captain.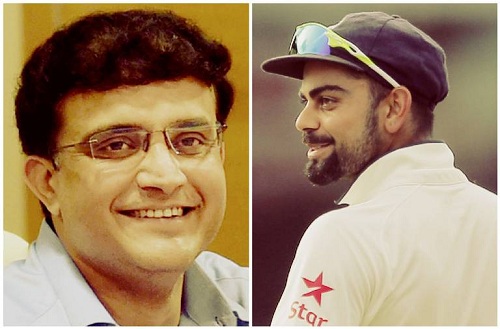 "I am a big fan of Virat Kohli. He is a captain who always wants to win matches on the field and I love that passion in him. I love the attitude and aggression in Kohli. He might lose sometimes and win sometimes but you know that he is playing to win it," Ganguly stated in an interview.
I often feel proud about Kohli and the way he handles the team with sporting spirit. I expect Virat Kohli to perform better than me as a team captain. He has yet to take challenges abroad facing Australia, England and South Africa in coming days.
Ganguly additionally commended team director Ravi Shastri for his role in the group, saying it is not obligatory that an outside mentor ought to assume responsibility of the group.
Ravi Shastri has done a good job recently. He has made a decent effort in Sri Lanka. Better not to go into the verbal confrontation of remote mentor or India mentor. We additionally have great mentors and cricketers in India who needs to give time. So we need to consider them as well, Sourav said. Ahead of South Africa series, the previous Indian skipper said it will be a test for the guests to maintain their structure amid their long 72-day visit.