Billboards in Ahmedabad came up with an answer 'Yes' to the question "Does Quran divulge Beef bad for health". Billboards raised in Ahmedabad locality to seek protection for cows and used a stanza claiming from Quran in order to validate it. Poster contain the picture of state Chief Minister Anandiben Patel and crescent star and moon which is Islamic symbol.
Under Gujarat government, Gauseva and Gauchar Vikas Board have set up and created this billboard which originated in Bapunagaer to embrace Muslims on the occasion of Janmashtami.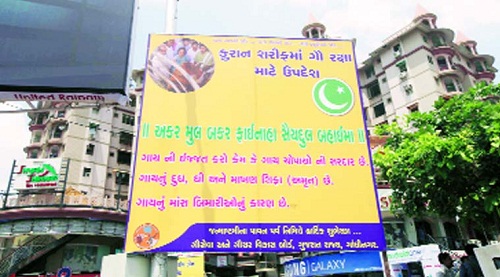 The verse written on poster, "Akramul Bakra Fainaha Saiyedul Bahaima". It has been translated as: "Show respect to cows as it is the leader of all bovines. Its milk, ghee and butter have therapeutic properties and its meat is the cause of several diseases."
The verse source and its translation was done from 20 page booklet in Gujarati and Hindi said Dr Vallabhbhai Kathiria, Gauseva and Gauchar Vikas Board chairman. Muslim leaders refused the verse quoted from Quran. All India Muslim Personal Law Board member Mufti Ahmed Devlavi claimed,
"I have never come across such a verse in the Holy Quran. It is possible that it may be an Arabic statement, wrongly attributed to the Holy Quran. It appears to have been used to mislead Muslims.''
Ex-Union Minister Kathiria could not remember the publisher and author of the book which he claimed to be at his home in Rajkot. The website of Gauseva and Gauchar Vikas Board says Gauseva Ayog established in 1999 was enlarged to Gauseva and Gauchar Vikas Board in 2012 which is under Agriculture and Cooperation Department agencies in Gujarat government. It is 'established for preservation, development and welfare of the cow and its progeny'.