Rahul Gandhi made repulsive comments against Prime Minister Narendra Modi over land acquisition bill. Recently Modi during his visit to Uttar Pradesh quoted that 'a 56-inch chest' would convert the state into developed state like Gujarat. Rahul Gandhi revolted against Modi's comments saying, Farmers, Congress and every citizen of India will turn their 56-inch chest into 5.6-inch chest in meeting while addressing people at Jaipur rally.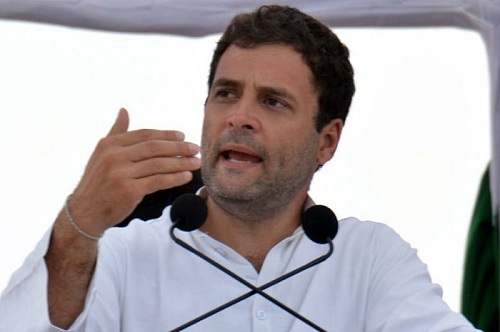 Land acquisition has been discarding the rural development ever since and currently congress party leaders are showing dis-interest in discussing about the issue. Prime aim of land bill is to avail an exemption in the land purchases for industrial, housing and infrastructure projects.
Rahul Gandhi revoked against Modi saying,"He has become the Prime Minister now, He has no more concern about farmers and people of India. He made several fake promises to lure voters before election".
Rahul Gandhi even spoke to farmers during his Rajasthan visit on Thursday and strengthened the Congress party would fight for them and we will take every measure to halt BJP Government to stop Land bill. Rahul also opposed NDA Government over faulty practices of their leaders. All the issues in the country like, Lalit Modi conspiracy,Vyapam Government in Madhya Pradesh,
"Like during the British Raj days, the remote control of the government in India was in London, the remote control of the Rajasthan government is in London. Rajasthan CM Vasundhara Raje is all about helping a "bhagoda", but she doesn't want it known in our nation," Gandhi said.