Rajesh Joshi, renowned hindi novelist who gave back his Sahitya Akademi award on Sunday has criticized Chetan Bhagat stating him as, he represents BJP. Bhagat who participated in a show organized by Hindustan on Monday said returning a honor is a bit of overreaction.
On responding to the Bhagwat's remarks on Scholars returning awards, Joshi said that Bhagat is a poor quality writer and he is not eligible to stand among English writers.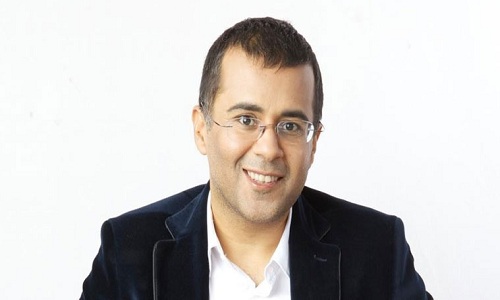 On October 8 Chetan Bhagat tweeted as "Ok, so am I also supposed to return my Sahitya Academi award? Oh wait. Haven't got it yet."
The tweets made by Bhagat is after litterateurs across the country started returning their awards and resigning from the post of Sahitya Akademi. The litterateurs who returned their honors include Nayantara Sahgal, Ashok Vajpeyi, Shashi Deshpande and feminist writer Sara Joseph and poet K Satchidanandan.
Joshi said, "Woh ek pulp writer hain aur isse jyada unki aukat nahi hai. Woh sirf aisa hee bayan de sakte hain. Bhagat is an ordinary English writer. He is not Vikram Seth and he is also not Salman Rushdie."
Joshi who lambasted at Modi's had said that Government has failed in all fronts and attempting to divert people with incidents like Dadri lynching and beef.
Joshi quoted "Chetan Bhagat has been writing for Modi, defending on issues that are indefensible.one should ask from Bhagat that as a writer what was his stand when Kannada writer MM Kalburgi and Govind Pansare, were murdered.Why didn't he protest against the murders. May God give Bhagat wisdom."