The most awaited 2016 Tamil movie Kabali is written and directed by Pa. Ranjith. The lead role in this flick is Rajinikanth. The movie came to sets on 21st Aug 2015.
Rajinikanth Kabali Chocolate Statue
One of the most popular actor having worldwide fans is Superstar Rajinikanth. Fans celebrate as a festival for every movie release of Rajinikanth which is mostly seen in South India. A big festival is going to be celebrated by the fans of Superstar in this May. This means the movie Kabali is ready to be released next month. The film is in post production stage.
Rajinikanth Kabali Chocolate Statue Photos
The promotions for the film Kabali are made in eccentric manner. Recently a cafe in Pondicherry had made a 6-feet Rajinikanth using chocolate of 600kgs in Kabali get up. The team took two weeks to prepare this statue.They are placing this statue in all their restaurants so that fans can take a selfie with chocolate Rajinikanth. They are also organizing a contest where Rajinikanth statue as a gift. The contest is about BEST SELFIE with a BEST SLOGAN.
Rajinikanth Kabali Chocolate Statue Made With 600 Kgs
In Tamil Nadu, the posters of Kabali movie is all around the buses, buildings and trains. In-order to create an excitement in the audience, the movie team is releasing new posters every week. Along with this a bakery named Zuka in Chennai also created a Chocolate Rajinikanth were lot of fans are visiting to take a selfie with the Rajinikanth Kabali Chocolate Statue .
Rajinikanth Kabali Chocolate Statue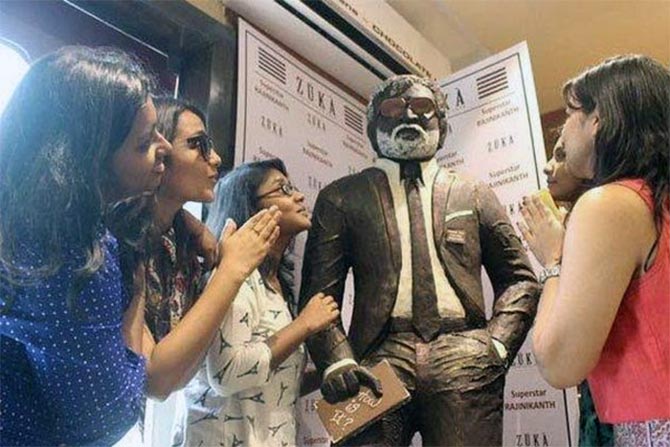 The expecting date for releasing kabali movie is 27th of next month that is May.
Rajinikanth Kabali Cast And Crew
Starring: Rajinikanth, RAdhika Apte, John Vijay, Dinesh Ravi
Director: Pa. Ranjith
Music Director: Santhosh Narayanan
Producer: Kalaipuli S.Thanu
Editor: Praveen K.L
Cinematography: G. Murali
Productions: V. Creations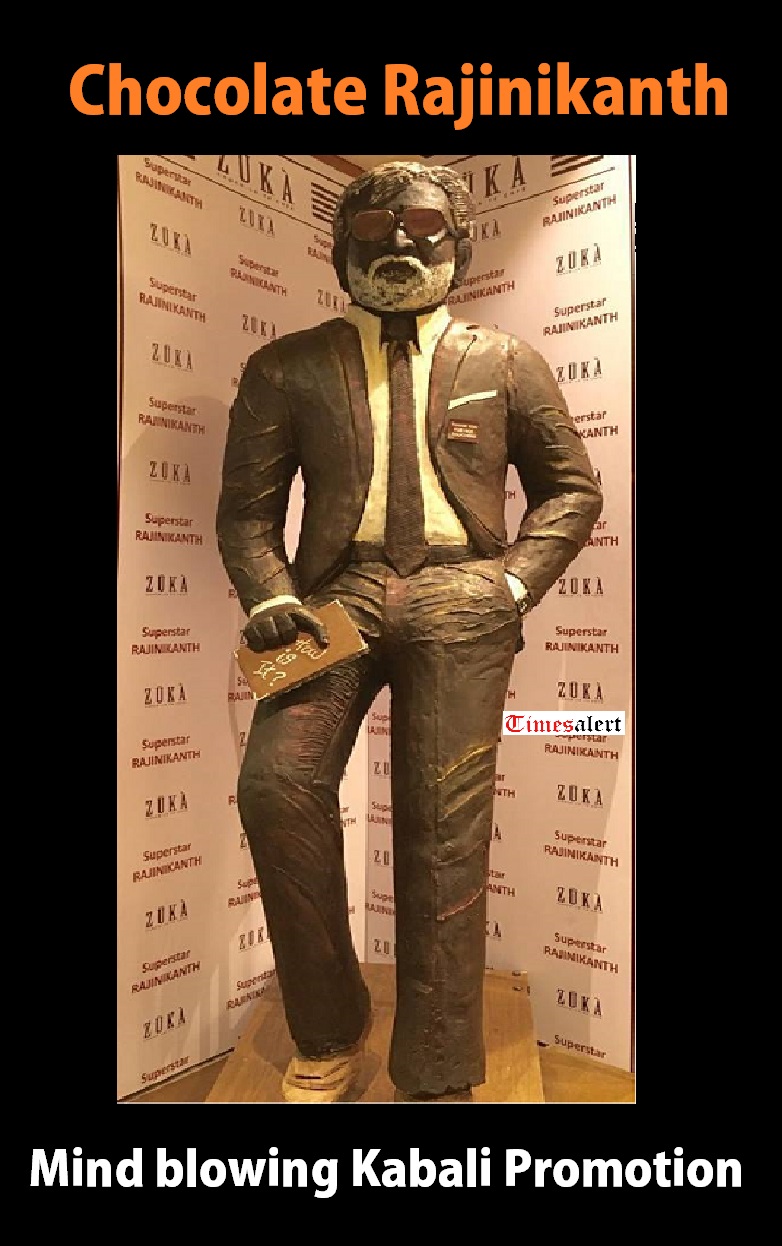 Kabali First Look Trailer Released Soon
Most awaiting teaser of the year Rajinikanth Kabali will release soon. Stay tune or book mark timesalert.com for Rajinikanth Kabali First Look Trailer, Teaser and Movie Updates.