Superstar Rajinikanth is not just an actor or a star for his fans, he is the God in their eyes. Rajinikanth has a huge following all over India and also in overseas, in Tamil nadu his fans worship him. All the movie actors in India respects him because of his generous and kind nature. He is a big superstar in India but never acts like one and always stays humble. No one dares to say or talk bad about Rajinikanth. Tamil film actor and DMDK party leader Vijayakanth has made a sensational comments on Rajinikanth.
Don't Mess with Rajinikanth, Vijayakanth Learns it in Hard Way in Tamil Nadu Elections 2016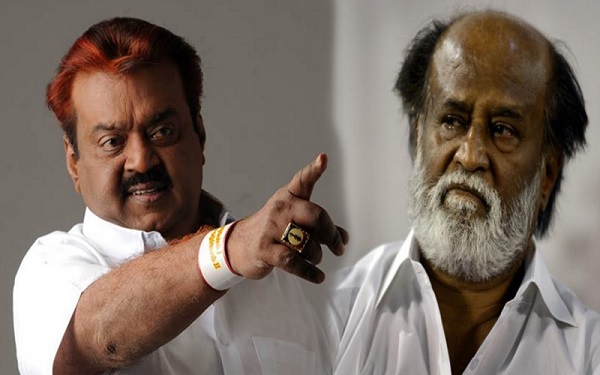 During Tamilnadu elections 2016 campaign, Vijayakanth mocked Rajinikanth saying "I am not afraid of anyone. I am good to those who are good . I am not afraid like Rajini Annan,". These comments have angered the Rajini fans and they started rallies and burned vijayakanth effigies images.
Do You Know This : Reason Behind Virat Kohli Jersey Number 18 
There were lot of remarks on DMDK party leader Vijayakanth on his behavior and he was always involved in the controversies such as beating a Journalist and there was a big uproar when Vijayakanth drunk and attended for Party Meeting.
All these remarks lead to his downfall in this Tamilnadu Elections 2016 where he was utterly lost to his opponents. This is what happens when you mess with Superstar Rajinikanth. Hope captain vijayakanth learned his lesson with this loss.