Indian off-spinner Ravichandran Ashwin honored with Prestigious 'Arjuna Award'. Ashwin has been selected in 15 man squad of Indian team which will tour Sri-Lanka to play three test matches in this month. He is keen to show his performance despite the presence of Harbhajan Singh and Amit Mishra. Ashwin received Arjuna Award from Union Sports Minister, Sarbananda Sonowal and expressed his joy.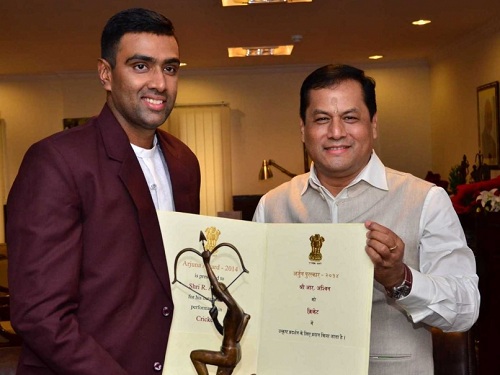 Ashwin has recently made a five-wicket haul against Bangladesh in June, and expressed his confidence to play against Sri-Lanka. Ashwin's consistency within the sub-continent is phenomenal. He has taken over 100 wickets in 16 Test matches in Asia where as he just took 24 wickets in 9 test matches.
Ashwin spoke to media on his preparations for next series, "Pressure is not something that is a factor for me. We are used to it all the time. I want to go there and get used to the conditions. I just want to enjoy my game and get as many wickets as possible. The ball is coming out nicely, so looking forward to the series".
This award is so precious to me, I would like to continuously dwell with good game. I have been enjoying my experience playing for the nation and much cherished by this award. Ashwin was reluctant to discuss about future relating to Indian Premier League(IPL).