Workers trapped under construction tunnel in Himachal Pradesh for more than 160 hours where hope has begin for two workers when an official filled confidence to them on Saturday with a speedy rescue. One of the worker Satish Tomar is very important for his family more than for himself. On resisting themselves after a tunnel construction for four lane road project between Kiratpur to Manali that collapsed on 12th September, Tomar made his request to Bilaspur Deputy Commissioner Manasi Sahay Thakur to inform his and companion's family about their well-being.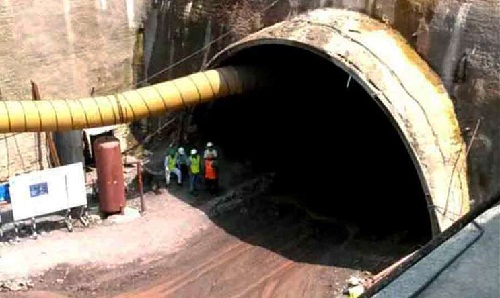 Thakur used microphone linked with webcam to communicate with Tomar. On Wednesday night rescue team managed to make contact with trapped two workers Mani Ram and Tomar but third worker HrIday Ram whereabouts were not yet known. Later both were supplied with eatables using pipe. Deputy Commissioner said rescue works were started and their message was conveyed to respective families. General estimation say digging may take one day or two to approach survivors but she assured to rescue them in 24 hours.
Till now they have managed to dig 32 meters vertical hole into tunnel. Earlier the pipe inserted to supply them food and to communicate them was of 50 meters. To bring them out they require to dig another 50 meters vertical. From 1.2 projected tunnel 274 meters was excavated till the day since occurrence of incident. Himalayan Construction Company was assigned with tunnel excavation contract whose workers trapped are hill residents. Border Roads Organisation (BRO) and National Disaster Response Force (NDRF) teams got involved in rescue operation.