6th April RRB NTPC Answer Key 2016 : Railway Recruitment Board has updated RRB NTPC Exam Answer Key. The Board dynamically conducted NTPC Examination for 6th April 2016 in 1st 2nd & 3rd Shifts. The aspirants who have appeared for the RRB Non Technical Posts exam on 06-04-2016 can check the RRB NTPC Solved Papers. The Railway Recruitment Board is organizing the exam for Non Technical Posts Online Exam including 18252 various posts. The released posts are Senior Clerk, Goods Guard, Typist, ASM, TA, CA, TA, ECRC, JAA, etc. Candidates those who had attended for RRB NTPC exam in 1st Shift 6th April can check the official RRB NTPC Answer Key here on our site. The RRB NTPC Exams are planned to be conducted from 28th March 2016 to 30th April 2016 in three shifts.
RRB NTPC Answer Key 2016 Asked Questions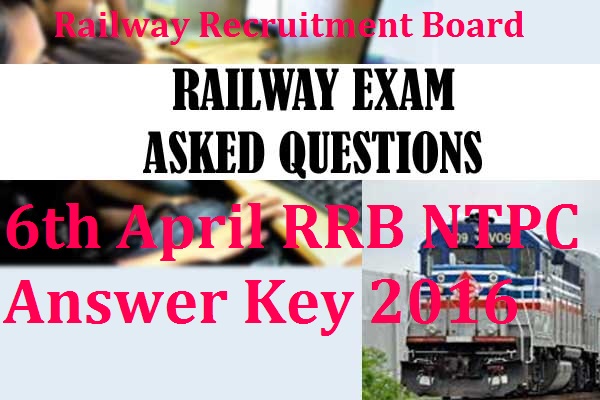 Annually the Railway Recruitment Board release notification to appoint fitting candidates into available vacancies in discrete departments of Railway Board. Earlier the board has approached general public with RRB Recruitment Notification for filling 18252 Vacancies for various posts across all regions. So now the Board has evolved the RRB NTPC Exam Answer Key for all regions which victoriously conducted exam on scheduled dates.
Large number of job finders who are venerable to enter into Railway Jobs has used this best chance. The board has given hall tickets for all applied candidates before 15 days of the exam date. All the appellants who are in search for 5th April RRB NTPC Answer Key and 6th April 2016 1st Shift, 2nd Shift & 3rd Shift Solved Papers can check below.
RRB NTPC 6th April Answer Key 2016 Download
Organization : Railway Recruitment Board
Category : Answer Key
Name Of The Posts : Various Posts
Number Of Posts : 18252
Location: India
RRB NTPC 6th April Exam 2016 Review
Reasoning: 25
Maths: 35
GK: 25
Science: 15
RRB NTPC Exam 2016 1st Shift April 6th Asked Questions With Answers
Q. Which is the Largest Stadium of America?
A. Michigan Stadium
Q. Calcium hydroxide is found is?
A. Lime Water
Q. Another name of Badshah khan?
A. Khan Abdul Ghaffar Khan
Q. Syed Modi Grand prix is?
A. Badminton
Q. Who is first women DG of Paramilitary?
A. Archana Ramasundram
Q. When Microsoft Started?
A. April 4, 1975
Q. Which is not a gland?
A. Gall Bladder
Q. Nephron belongs to?
A. Kidney
RRB NTPC Exam 2016 3rd Shift April 6th Asked Questions With Answers
Q. Winner of U19 cricket World Cup?
A. WestIndies
Q. Nagaland Capital?
A. Kohima
Q. NASA Headquarters?
A. Washington DC
Q. Stainless Steel is an ?
A. Alloy
Q. where is the statue of Liberty Situated?
A. New York,USA
Q. Khajuraho Temple located in?
A. Madhya Pradesh
Q. Which gas is released during respiration by human Beings?
A. CO2
Q. State share boundary with Bangladesh?
A. Tripura
Q. Which Cricketer Hits 3 consecutive boundaries in Cricket World cup?
A. K Sangakkara
Q. Maximum number of Medals won by which country in Olympics 2012?
A. USA
Q. What are Infrared Rays?
A. Electromagnetic Waves
Q. Who is the Founder of Swaraj Party?
A. Chitranjan Das
Official Site : www.indianrailways.gov.in