RSS chief Mohan Bhagwat on Sunday asserted that present day politics are not bothered about nation but only interested in their political parties. He said attaining power is easy but making decision is a difficult task and he further added that winning and losing in the elections depends upon the monetary value.
He further claimed that political parties are defeated by those with egocentric even if they decides to work on ideology and policy lines. He said, with the lack of political ripeness they are playing with emotions for obtaining power.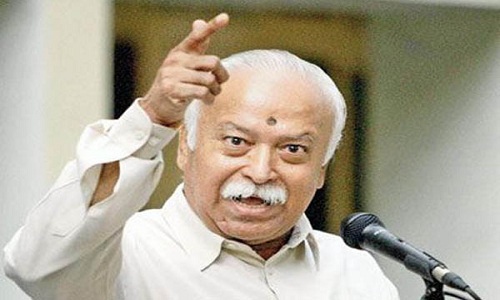 Bhagwat in an interview given to Panchjanya gave a proposal to set up a committee for caste based reservations and it will decide which community requires reservations and duration.
"A non-political committee like autonomous commissions should be the implementation authority, (while) political authorities should supervise them for honesty and integrity," he said.
He also spoke about series of issues recommending the addition of principle of "Integral Humanism" suggested by ideologue Deendayal Upadhyaya.
"It is clearly evident that the nature and conduct of present day politics is not in tune with the principles of Integral Humanism. Presently, politics is not for the nation, not for the last man standing, but revolving around the interests of political parties… Attaining power is an easy task, but policy making on certain principles is difficult."
Asked about change in the government can mark the beginning of new age and end of appeasement politics he said "Merely a change of guard is not going to change the overall situation. If only one party tries to do that then there will always be doubt about how far they can go. If appeasement policies are followed, then how far they can go, I am not sure. Social awakening is necessary for this."
Finally people will get the government what they deserve, he added.