A Russian plane carrying 224 passengers along with crew members have crashed today in the Sinai Peninsula, according to the government officials. The security officer from Egyptian civil aviation authority who have arrived at the location said that all the passengers on the board were probably dead.
An Airbus  A-321, voyage from Sinai Red Sea resort of Sharm el-Sheikh to St Petersburg in Russia with 217 passengers and seven crew members went off radar after 23 minutes from its departure.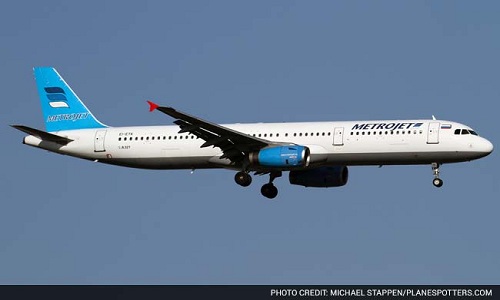 Sergei Izvolsky, Russia aviation official said that flight took off from Sharm el-Sheikh exactly at 5:51 am local time (03:51 GMT) and was travelling at a altitude of 31,000 feet when it was disappeared from Radar screens.
The rescue operations were abrupted by poor weather conditions and finally the team reached the crash site in the Hassana area which is 32 Km away from south of the Sinai Mediterranean coastal city of Al Arish, as per Aviation Ministry. Till now 5 ambulances have managed to reach the incident place.
The news agency reporters says that the plane was completely destroyed. According to the cabinet, some debris was found by Military planes in a mountain area where the ambulance were routed to the place to evacuate injured people.
Sinai militants till now have killed hundred of Egyptians and the police have also attacked western targets recently. However there are no indications that the Airbus has been shot.