Cricket icon Sachin Tendulkar has turned into singer in order to support Prime Minister Narendra Modi's led Swachh Bharat campaign. This anthem of the Swachh Bharat or Clean India mission will be released on October 2, on the first anniversary of the launch of campaign.
The 42 year old cricket star has took his twitter to share this wonderful news with his fans and followers and posted photos that were clicked in the studio with Shankar Mahadevan, Prasoon Joshi and Babul Supriyo.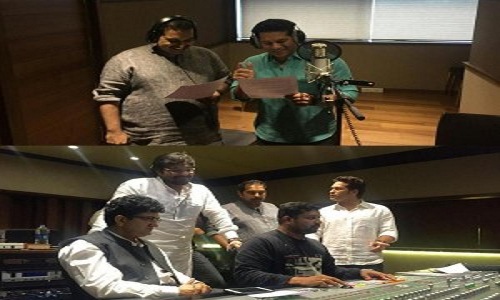 He wrote, "Lending my voice, support and more to a #SwachhBharat. With @Shankar_Live, @Prasoon_Joshi, @SuPriyoBabul." He was pictured during a song record for Swachh Bharat Abhiyan with Shankar Mahadevan, Prasoon Joshi & Babul Supriyo.
Sachin will be reciting a few lines in the song apart from giving valuable suggestions for recording. The supporters have donated their life to the Swachh Bharat Mission continued throughout the year for the welfare of each individual in the country to provide cleanliness and hygiene environment.
Prime Minister has earlier appreciated Sachin for his contribution towards the mission when he was seen cleaning Mumbai roads with a broomstick in his hand.
Sachin Tendulkar was one of the nine celebrities chosen by PM aimed to inspire citizens to come forward in realising about clean India said a senior Urban Development Ministry official. The  celebrities nominated including Sachin Tendulkar are Salman Khan, Anil Ambani, Baba Ramdev, Mridula Sinha, Aroon Purie,Shashi Tharoor, Kamal Haasan.