'Sara Ali Khan' daughter of star actor 'Saif Ali Khan' and 'Amrita Singh' soon going to make her debut in Bollywood. Currently Saif's daughter studying at Columbia University thinking of an idea to enter Bollywood. Being the offspring of Pataudi's family and superstar in Bollywood Sara didn't had any initial plans to take up acting as her career. As per reports 'Shewakramani production' is going to introduce Sara which will be her debut film.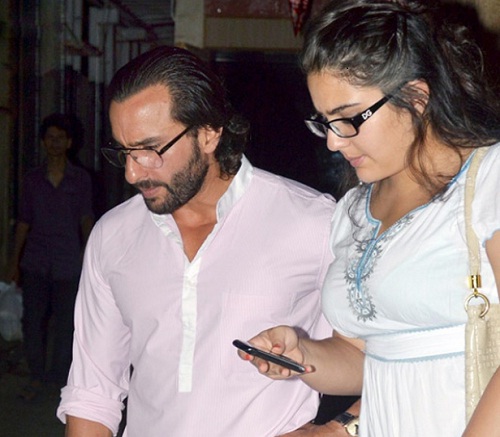 Saif is good friend to 'Jay Shewakramani' who has worked with the revenant actor in few films. Sara is of 23 years old, so Saif believe that it is a relevant time for Sara to enter film industry. Last year when she was still studying, this Bollywood actor was not determined on his daughter to put her leg in Bollywood. Saif said that he will not have any problem his daughter entering into glamour industry as acting is an amazing profession.
At present she is still pursuing her second year at Columbia University. So Saif said he would not have any problem Sara joining film industry but expressed his feeling that he would have problem if she enter movies leaving her studies and college. When she messaged him about her interest, this actor replied in a single word message as 'Yes, but after college.' After that she was quite for a few days thinking some days to become doctor, someday lawyer then suddenly she expressed her wish that she wants to work at White House. None of them leaves Columbia in the world to leave League university.
Saif even said, someone have told her she would have get shot thinking about leaving her college. Having degree is only the passport to attain economical strength in order to survive anywhere. She can have job wherever she wants in the world. Leaving college will be foolish of her just only to enter into acting career. So it can be done after her education.