Indian badminton champion 'Saina Nehwal' rebuked her loss in World Championships final during second game on her witless mistakes at vital times. Acknowledging her failure, it was more like mental battle rather a physical, stated Saina. In the second game Saina was bit slower where she lost her points very quickly. On the other hand 'Carolina Marin' was more at ease as she have WC final experience whose concentration is only on playing other than winning or losing.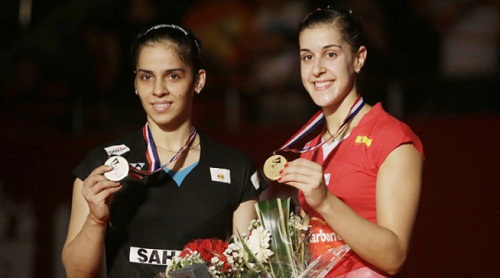 Carolina will be regaining World No. 1 will maintain 80,612 points and will not have chance to secure single extra point. But Saina who lost in quarter finals last year will secure extra 36,00 points that will raise her complete score to 82,792 points. For the first time on April 2nd, Saina became World No.1 for five weeks.
Saina stated, "I could have done better today. I made too many mistakes in the first game. I have no problems with fitness. But the final is more mental than physical. I made one silly error during a crucial moment in the second game."
Harvir Singh Nehwal narrating PV Sindhu as next Indian Saina said through her achievements for India he feels proud of his daughter. For now she may have lost but shown way for many young players like
Sindhu, Kidambi Srikanth, Parupalli Kashyap and HS Prannoy. And stated Sindhu is doing well, she might become the next Saina.
Harvir Singh said, "It is great to see so many shuttlers coming from the Gopichand Academy. I am happy that Padukone Academy, where Saina is practicing now, is also producing several players. All these augur well for the development of the game."
At the same time Saina's coach Vimal Kumar stated,
"Her net play let her down and eventually that affected her confidence. Moreover, Saina appeared more contended in defending and the initiative to attack was not visible."