Saina Nehwal met Prime Minister Narendra Modi and presented him  racquet as a birthday gift. Saina was extremely impressed with his knowledge on sports and felt he was like her family member. She said he has discussed about many issues like Commonwealth games, Asian Games and Olympics and role of the family,business associated with sports. He also discussed with her the growing interest among girls choosing badminton as their career after her triumph and admired her father for his role of shaping her up to became a number one player.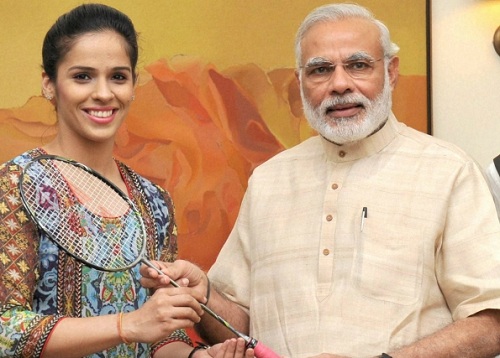 "The meeting lasted for about half an hour and I was surprised that he knew about my family and my game so comprehensively as if he was a family member,"
"He is well versed about sports and sportspersons in India. He knows the projects being carried out in sports in our country. He also mentioned about the Sports Kumbh in Gujarat during his chief ministership."
Saina also explained about her winning silver medal at World Championships silver and becoming No.1.
"It was a general meeting with Honourable Prime Minister to brief him about my performance in World Championship and being as world number one in badminton. It coincided with his birthday so it became more important," she said.
The world No 1 London Olympics bronze was accompanied by her father Harvir Nehwal, and Neerav Tomar and MD & CEO of IOS Sports & Entertainment.