B-Town recollects blockbuster hit film 'Sholay' where 'Salman Khan' watched it in his school uniform while 'Abhishek Bachchan' was not even born. This magnificent film turns out be 40 years this month since its release. Salman's father 'Salim Khan' was the script co-writer along with 'Javed Akhtar' featuring 'Amitabh Bachchan' as Jai, 'Dharmendra' as Veeru, 'Hema Malini' as Basanti, 'Sanjeev Kumar' as Thakur and 'Amjad Khan' as fearful Gabbar which was directed by 'Ramesh Sippy' that released on 15th August, 1975.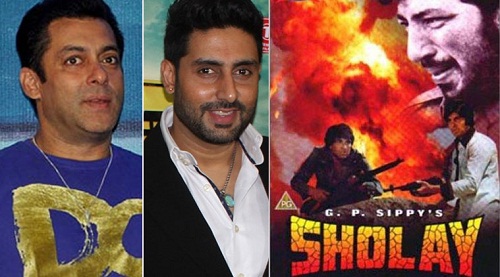 Salman said he and his brother Arbaaz visited 'Minerva' theater to watch premiere show of the film. He even said they were in their school blazers when his father took them to watch the film. Shockingly it was a huge disaster starting two weeks. To ease Amitabh Bachchan they supposedly thought to shoot climax sequence again but fortunately after two weeks movie went to next level. 49 year old Salman said he was fascinated by super hit dialogues of the film and always desired to quote lines like 'Sholay' for his films.
'Sholay' will be remembered for most everlasting dialog in entire Bollywood like "kitne aadmi the?" by Gabbar, "Basanti, in kutto ke samne mat nachna" by Dharmendra and "Tumhara naam kya hai Basanti?" by Bachchan.
Abhishek who was currently busy promoting his upcoming film 'All Is Well' remembered 'Sholay' saying actually he was in his mother's womb when he attended the premiere show.
39 year old Abhishek said, "The thing I love about 'Sholay' is even if you see it today, it's very contemporary. A lot of films age, I feel 'Sholay' is ageless. It is as close to what we can get to a perfect masala potboiler that we have. Even if you see it today, its very believable. It's an iconic film. My entire childhood has been full of hearing stories of Salim-Javed uncle, Ramesh uncle, my parents and those were such wonderful stories. I believe the film was shot over three years. There were great anecdotes."