Aishwarya Rai's Sarbjit movie official theatrical trailer has been released. Watch Omung Kumar directional Sarbjit Official HD Trailer on our site. Sarabjit is a Indian biographical drama that features Aishwarya Rai, Randeep Hooda main female and male leads. This film is being directed by Omung Kumar. The story of the movie is presented by Utkarshini Vashishtha. The movie Sarabjit which is together produced by Bhushan Kumar, Omung Kumar, Zeishan Quadri, Vashu Bhagnani and Sandeep Singh is working at high speed to have the film's release on 20th May 2016.
Eedo Rakam Aado Rakam Review Rating
Aishwarya Rai Sarbjit Movie Trailer
The movie is being produced under Pooja Entertainment and T-series production company. Cinematography for the movie is handled by Kiran Deohans and editing effects were presented by Rajesh Pandey. Opting Sarabjit story for the film has shocked the entire India, so every one are eagerly waiting for the movie to be released worldwide soon. As Aishwarya Rai is the member of Jury in Cannes, this movie might be presented in Cannes International Film Festival. This year the Cannes film festival will take place amid May 11th-22nd.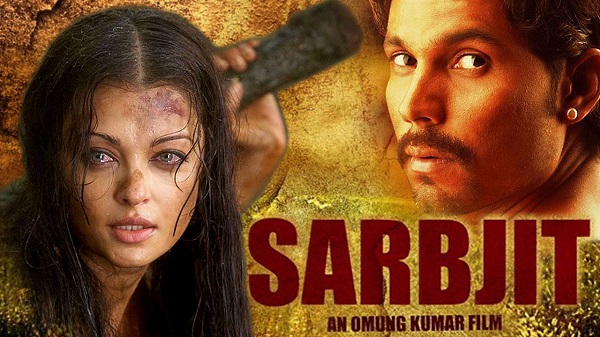 Watch Sarbjit Theatrical Trailer
Omung Kumar earlier praised for his biographical frame work Mary Kom starring Priyanka Chopra based on the life of Boxer Mary Kom. The film highlights the journey of a simple common girl who was World Boxing Champion in 2008. The film received great round of applause from all genres of audience, so now the expectations for the film Sarbjit are very high. One more highlighting feature of the film was Aishwarya Rai who played the lead part in the movie. Prior Aishwarya Rai Bachchan was seen in the film Jazbaa and that has gained good responses for the actress character.
Sachin A Billion Dreams First Look Teaser
Watch Sarabjit Official Trailer Aishwarya Rai Randeep Hooda
The movie likewise features Darshan Kumar, Shivani Saini, Richa Chadda, Charanpreet Singh, Ankita Srivastava, Ankur Bhatia and Ram Murthy Sharma who will be seen playing crucial roles in the movie.
Coming to the Aishwarya Rai's role if the film, she is playing a role of Dalbir Kaur. Dalbir Kaur is none other than the sister of Sarabjit Singh. The film unit earlier has revealed Movie Poster that unveiled Aishwarya Rai attire that is very uncommon to look. Now the released Trailer is creating much hype for the film as is a biopic drama. Every one are eager to watch their favorite actress on the silver screen in her second innings. Movie is slated to release on 20th May 2016 worldwide.
Watch Aishwarya Rai Sarbjit Movie Official Trailer