Seychelles President 'James Alix Michel' to held talks with Prime Minister 'Narendra Modi' on his three-day visit to India from Tuesday. He is to meet Modi on Wednesday with high end deputation which include Finance Minister, Foreign Affairs and Transport Minister Joel Morgan, Trade and Blue Economy Jean-Paul Adam along with President.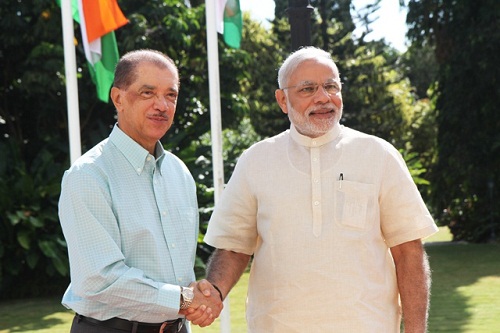 Besides business meetings, Michel is to address 'Maritime Security for Blue Economy' in New Delhi at World Affairs of Indian Council. He then visits Mumbai where he will meet Maharashtra Governor and tackle an event categorized by Seychelles Tourism Board. Once the meeting have an end with Modi, Finance Minister Arun Jaitley and Defence Minister Manohar Parrikar will held talks with Michel followed by President Pranab Mukherjee.
An official statement said, "India and Seychelles have close and friendly relations. As maritime neighbours, our partnership is anchored in the need for peace and prosperity in the Indian Ocean region. Development partnership, especially in the areas of capacity building and human resource development forms an important part of our engagement. The presence of a strong Indian community in Seychelles, comprising about 11 percent of the total population, is another significant link between our two countries."
1976 is the year India established diplomatic relationship with Seychelles ie., after independence.  Seychelles archipelago has 90,000 of population. As per recent statistics, around 8,200 Indian nationals are living and working in Seychelles while most of them were on the side of field construction. In east coast African continent, it has the largest maritime privileged zones in the world.