Bollywood crazy vintage 'Sholay' completes 40 years on this August 15 which was blockbuster hit in 1975. Total fight sequence, songs and most specially all the dialogues of the film everlasts in every individual mind. 'Kitne Aadmi The' was the most popularly used dialogue even now. Ramesh Sippy mark 'Sholay' featured venerable actor Amitabh Bachchan and Dharmendra as main leads in very recognizable roles 'Jai and Veeru'. Hema Malini along Jaya Bachchan had given their spectacular performance who played love interest roles of Veeru and Jai. Another splendid character played in the film was 'Thakur' by Sanjeev Kumar.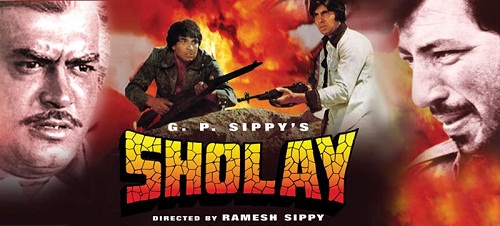 In entire Hindi cine industry, 'Sholay' gave an all time iconic villain 'Gabbar Singh', very appropriately
played by late Amjad Khan who was debutante in the film. This was an unrivaled Indian film in history including every element from each frame work to complete sound track. Many B-Town actors made their response on its 40 year completion and most of them said the magic of the film lies in story and dialogues.
'Sholay' has impact in real life too, as it became most popular across the country. Jalgaon villagers presented their repeated performances to obtain their demand for regular water supply. One of the junior engineer climbed water tank attempting suicide last year to get his wife back from her mother's house. One of the police men arrested him saying, 'Come along with us. We'll get your Basanti back.' There were many such stories.
Some of the breathtaking dialogues to remember all time,
"Kitney aadmi thhe?"
"Basanti In Kutton Ke Samne Matt Nachna"
"Holi kab hai … kab hai Holi, kab?"
"Chal Dhanno … aaj teri Basanti ki izzat ka sawaal hai"
"Yahan se pachas pachas kos door gaon mein …. jab bacha raat ko rota hai, toh maa kehti hai bete soo ja ….soo ja nahi toh Gabbar Singh aa jayega"
"Arrey oh Sambha.… kitna inaam rakhe hai sarkar ham par?"
"Jo darr gaya… samjho marr gaya"
"Jab tak tere pair chalenge uski saans chalegi.… tere pair ruke toh yeh bandook chalegi"
"Itna sannata kyun hai bhai?"
"Hum Angrezon ke Zaamane Ke Jailor Hain."
"Aadhe idhar jao … aadhe idhar jao … aur baaki hamare saath aao"