Ten cops were injured today out of which four are severely injured in allegedly pelting of stones by a mob which was protesting here at Moga over torn pages of a holy book found near a religious place at Faridkot. Khurd Jawahar villagers have found torn pages of  Guru Granth Sahib book near Faridkot on Monday outraged and blocked the traffic in Kotkapura.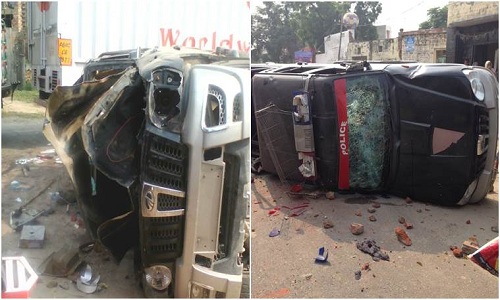 Nearly 200 Sikh protester  have assembled at Moga-Barnala National Highway and demanded to arrest the person behind the incident. A violent confrontation took place when cops tried to scatter the protestors. The mob tried to pelt bricks and stones on the policemen, injuring 10 policemen and they said that four vehicles have got damaged.
The injured policemen SP H S Pannu and assistant sub-inspectors Balwinder Singh, Sukhminder Singh and Major Singh including a woman constable were admitted to the Civil Hospital. Meantime, Baba Ranjit Dhandariya Wala, Panthpreet Singh, Avtar Singh Sadhanwala and Jaskiran Singh  were taken into custody on Tuesday.
However they again resumed the protest at Kotkapura main chowk and Bathinda-Faridkot Highway which was blocked in the evening. The sikh protesters said that their protest will continue until the arrest of those behind the incident.SP (Investigation) H S Pannu said that cops will take necessary action against those who pelted stones at police and  those deliberately destroyed the vehicles.