Ramya Upcoming movie Siva Nagam Teaser/Trailer has been released today. Siva Nagam film is dubbed version of kannada film Nagarahavu. The first look poster of Nagarahavu was released on 29 May 2016. The teaser in original version ie., Nagarahavu First Look Teaser has been released on 30th May 2016 (Monday). Now the film unit has released Siva Nagam Official Teaser today. Ramya in Kannada got fame through Kuththu movie.
Divya Spandana aka Ramya featuring in Siva Nagam has been written and directed by Kodi Ramakrishna. Kodi Ramakrishna is well known Director and very prominently known to Telugu People who can easily identified for making blockbuster movies like Arundhati featuring Anushka and Amman/Ammoru featuring Soundarya.
As a fact the film must have started four years ago. But due to some unfortunate reasons like Director falling sick, mean while Ramya got busy with political issues movie was delayed. However, the film unit released the Siva Nagam Official Trailer.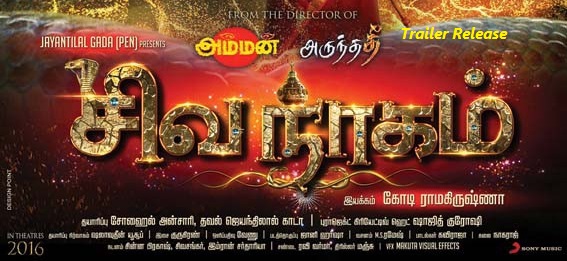 Siva Nagam movie is a Tamil version of Nagarahavu Kannada film directed by Kodi Rama Krishna. Dr. Vishnuvardhan, Ramya, Diganth, Mukul Dev, Ravi Kale and Rajesh Vivek Upadhyay will be seen in lead characters. Music for Siva Nagam film is given by Guru Kiran. Sohail Ansari, Dhaval Jayantilal Gada has been producing the film. Movie is delivered by Sri Thenandal Films, N.Radha and Rama Narayanan.
Also Watch : Saahasam Swaasaga Saagipo Theatrical Trailer
Siva Nagam Movie Trailer
The teaser that was released runs for few minutes that shows Ramya and Vishnuvardhan roles in the movie. Actress Ramya has played the role of a snake in Nagarahavu. The actress will appear as 120-feet large snake in the film besides Dr. Vishnuvardhan. Diganth is seen playing the male lead in the movie. The film is expected to be rich in CG works and the special effects will definitely dominate the screens with about one hour in complete two-hour long movie.