Underworld don Chhota Rajan who was arrested in Bali have alleged on Tuesday that some police officials in Mumbai have links with Dawood Ibrahim. He also claimed that Pakistan army have increased the security of Dawood after he was arrested.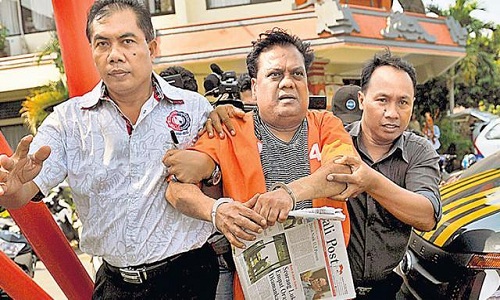 "The Mumbai Police has done a lot of 'atyachar' (atrocities) on me…the government should look into that. Some in the Mumbai Police are mixed up with Dawood," Rajan, said to Indian reporters in Bali's Denpasar.

Asked whether he was afraid of returning to Mumbai he said  "I am not afraid of Dawood. All my life I have fought against terror and will keep fighting against Dawood and terror.

He added "I will go wherever the government will take me. I just want justice."
According to the reports, Rajan may be brought back to India today night, and there is an confirmation from International Criminal Police organization in Bali "Clearance has come, by tonight he will be out,"
The gangster was accused in more than 70 cases such as murder, extortion and drug trafficking where all the cases registered mostly in Mumbai. He had evading police from the past two decades until he was caught in Bali on October 2015.
There was speculation on him that he had links with Indian security agencies and involved in killing of anti-pakistan elements and also countering his former boss Dawood Ibrahim.
Rajan once worked as a close aid for Dawood until they fell out in 1993 after Mumbai blasts, since then several attempts were made  by the Dawood Gang on Rajan's life.