Prime Minister Narendra Modi has recently rallied in Bihar's Banka region , where as Congress President Sonia Gandhi will address two meetings in the state today. Ms Gandhi's rallies will be commenced at Kahalgaon – Bhagalpur and Wazirganj region of Gaya will be the first arrangement of Congress meetings subsequent to the five-phase polls were announced recently. Sonia Gandhi will be addressing her first rally Kahalgaon near to Bhagalpur. Elections are going to be held on October 12 as part of first stage. She will then travel to Birgunj near to Gaya where elections will be held on October 16 as part of second phase.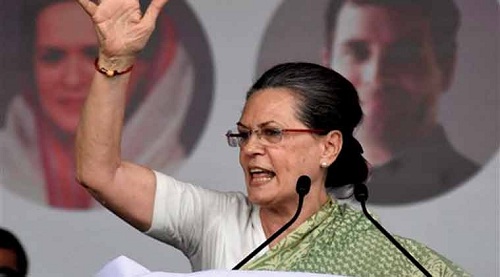 Congress sources said that both Rashtriya Janata Dal (RJD) boss Lalu Prasad and Bihar Chief Minister Nitish Kumar are prone to impart the dais to Ms Gandhi. BJP President Amit Shah has also recently addressed a rally in Purnia recently where the elections are going to be held on November 5.
PM Modi during his rally in Banka made an in number pitch for advancement, indicating how neighbor Jharkhand, ruled by the BJP, has been ranked at 3 among Indian states in a World Bank study while the Janata Dal-United (JD-U)- represented Bihar remained as constant. He inturn focused on Chief Minister Nitish Kumar and the Congress-RJD-JD(U) organization together saying that the state government had neglected to keep their agenda stated before the last elections. During the last month meeting in Bihar, Congress Vice President Rahul Gandhi had taunted PM Modi, affirming that he just met officials wearing 'suits and boots' and forgot to interact with nation's poor.