Patiala House Court has issued clean chit on former Indian pacer Sreesanth who was facing fixing charges in 2013 Indian Premier League (IPL) spot-fixing case. All the 36 individuals who were accused along with Sreesanth, Ankeet Chavan and Ajit Chandila were relieved from the IPL-6 spot fixing case by Patiala High Court. BCCI is reluctant to change its disciplinary decision even after the Court verdict.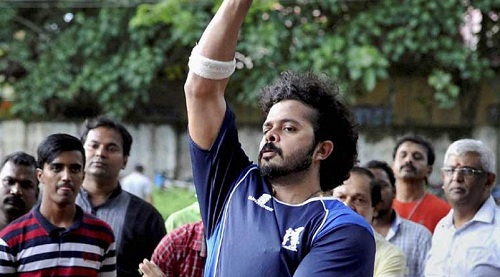 Sreesanth was almost wrapped in the case for duration of two long years, during which he even spent time in Delhi's Tihar Jail. On Sunday, Sreesanth started his first workout in the nets after two years at the Edappally High school, Ernakulam Cricket Stadium. Before starting his practice session Sreesanth said that it would take about three weeks to become fit for playing matches. Board of Cricket Control in India has not yet sent any positive vibes to him yet.
Sreesanth spoke to media,"I take this opportunity to thank each one of my well wishers who stood behind me in my time of suffering. This is a sort of a second life for me and for me now even if it's tennis ball cricket, I will take part to get back to full fledged cricket".
BCCI Vice President and Kerala Cricket Association(KCA) president T.C Mathew has not yet reacted in the matter.
Rebecca John, Sreesanth Counsel said," They are free to go ahead with the appeal but we will see that they are given a stronger setback," said John to the media in Delhi on Sunday".