Karan Malhotra's Brothers film trailer featuring Akshay Kumar and Sidharth Malhotra thrilling all the audience with astonishing look talking about how they turned into fighters such effortlessly. Their strong hostility and savagery punching was perfect with every frame. Particularly Malhotra who was most commonly seen as cute looking guy made best performance this role which he never played before.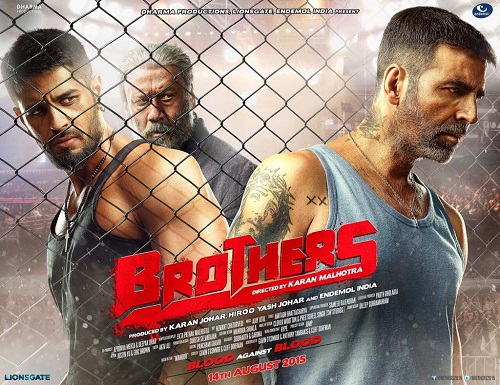 Brother film is a remake of Hollywood action film 'Warrior' based on two craving brothers marked against one another in wrestling ring. Trailer of the film on YouTube rapidly reached around 8 million views. A part from that, film is attracting viewers with an anthem composed by Ajay-Atul and sung by Vishal Dadlani. The anthem which was released on 27th July has hit more than 80,000 views.
The song is all about the journey of David Fernandez (Akshay Kumar) and Monty Fernandez (Sidharth Malhotra) who are involved in their fighting preparations. David will be seen benefiting with correct gym, trainers and equipments. On the other hand Monty will be seen working in a construction site using machines and climbing cranes which were old rusty spare sections. Dadlani rocky voice is so apt for anthem's energetic beat.
Akshay Kumar played a role of teacher who gives up his job to train for the fight while Sidharth Malhotra played a role who break the rules. Song made its end with few shots of Kumar and Malhotra bashing each other in wrestling ring. Bollywood film 'Brothers' was directed by Karan Malhotra and produced by Dharma Productions starring Akshay Kumar, Sidharth Malhotra, Jackie Shroff and Jacqueline Fernandez.