Sujoy Ghosh's sensational short film 'Ahalya' has gathered huge  nationwide response and Radhika Apte has received accolades for performance. Radhika Apte played the role of young wife of an old artist who is a seductress and is also innocent. Whole Bollywood film fraternity and audience applauded the short film which is an absolute thriller with twist.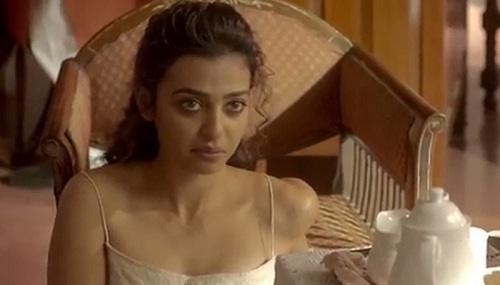 'Ahalya' is based on the popular mythological story of Gautama Maharshi's wife 'Ahalya' where Indra seduces her and later gets cursed by her husband. This 14 minute short movie thriller has been getting immense response on social media and more than 3 million views on YouTube making it the most happening short film in a while. Soumitra Chatterjee has also played an important role in the short.
Short film begins slowly where a young policeman enters their home to inquire them about a missing man. Plot turns out to get spooky, when you can see the doll-version of the missing person is standing on the couple's mantelpiece, besides 5-6 other dolls. Ending seems somewhat predictable at the end soon which turns out to be gripping the whole plot takes you along with it.
Radhika Apte explained about her character saying,"It's not obvious that she knows she's beautiful. Also, the way she offers him tea and coffee is very normal. She's just being herself in the sense that she's not even dressed up, she's just wearing what she would at home. She's not made up, hasn't tidied her hair. She's a very regular 2015 woman."