Former Adult Star Sunny Leone is the most demanding actress in the Bollywood at present. Even though her movies are not a big hit, the film makes has not stopped to rope this actress in their movies. Sunny Leone movie might be flops but that didn't let the box office collections down, her movies are always a paisa vasool film for the makers.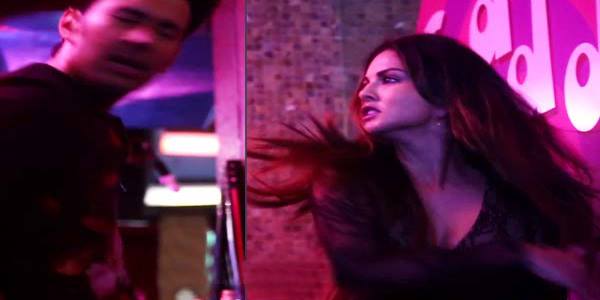 Sunny Leone Slaps Journalist For Asking Her Rate
Sunny Leone craze is not just limited for Bollywood, she has a lot of following in the South too. Many producer wanted to rope her for item songs but couldn't provide her charges. Sunny Leone charges a hefty amount for the item songs and special appearances.
Sunny Leone Slaps Reporter
Even though she confirmed that she is no longer a Adult star, makers, fans had never let her forget her past. Reporters have been constantly making a headlines on her if ever she agreed to perform at a stage show or at a party.
Rajamouli Stunning Comments On Nagarjuna Oopiri Movie
There have been lot of sunny leone images circulation around the social media about her performance in the late night shows and news about her taking a whooping amount from the parties to perform at night shows.
Recently on the eve of Holi celebrations, Sunny Leone was roped to perform at Gujarat. The event was successfull after her performance "Play Holi with Sunny Leone" she addressed media. A reporter had asked her an awkward question (a senseless question) which made angry enough to slap the person.
Anisha Ambrose Sensational Comments On Pawan Kalyan
According to the reports, the reporter asked Sunny Leone how much she charge for 'night programmes'. This made the actress lose her cool and she immediately slapped the reporter.
After the incident Sunny Leone husband confirmed the news and told what she did was a fitting reply for the reporter and he also said if she ever had to visit Gujarat again, she might think thousand time to consider it.
Pawan Kalyan Latest Interview With Ajay Brahmatmaj Full Video
Sunny Leone Slaps Reporter Real Truth Behind This Controversy
Sunny Leone Posted Tweets On She slaps reporter for asking her Rates issue. She clarifies, posted tweets on this issue, its fake news created by national media.
Sunny Leone Tweets on Slaps Reporter controversy