External affairs Minister Sushma Swaraj, on her first day in the US had a stuffed calendar on Tuesday. She met foreign Ministers of the Brics -Brazil, Russia, India, China and South Africa, took an interest in a trilateral meeting with the US and Japan. Met the State Secretary Philip Hammond for Foreign and Commonwealth Affairs from the United Kingdom. South Africa Minister do not attend the meeting as he had to take off for other official conference.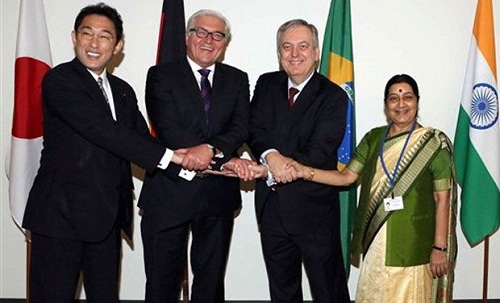 At the Brics meeting, the Ministers conveyed their backing for an effective result at the COP21 in Paris this year. Press release from the Ministry said, they called for a extensive, adjusted and even handed agreement with lawful force for the post 2020 period that is similarity with the principals and procurements of UNFCCC (United Nations Framework Convention on Climate Change) to be accomplished in an open, straightforward and comprehensive arranging procedure.
The Brics Ministers repeated the requirement for the extensive changes of the UN, including its security board to make it more illustrative and productive. Later the Swaraj met with UK's foreign secretary Hammond. Spokesman to Ministry Vikas Swarup said, there was some discussion on UK's interest in our smart cities program and on Indian investments in the UK and UK investments in India. After this on Tuesday secretary of state United States John Kerry held the inaugural US-India-Japan trilateral ministerial dialogue on the sidelines of the UN general assembly. Recognizing the three nations broad
debacle reaction capacities and converging interests, the three sides consented to gather specialists level gathering on assistance and disaster relief to upgrade capacity to react mutually to complex fiascos. On Wednesday Swaraj, will meet Ministers from Maldives, Caricom, Saarc, Syria nations, Sri Lanka and the Gulf Cooperation Council.