The lingering rumours about the health condition of the Tamil Nadu Chief Minister's Jayalalithaa have been cleared by the officials of Apollo Hospitals, this Saturday. On 22nd September 2016, Tamil Nadu CM Jayalalithaa was admitted to Apollo hospital in Chennai as she was suffering from for fever and dehydration for past few days. The Apollo doctors have certified that Jayalalithaa has been cured of fever and dehydration and she must stay in Hospital for few more for observation.
Tamil Nadu CM Jayalalithaa Health Condition Latest News
There were no official statements made on behalf of government and doctors regarding the improvement in her health conditions. The opposition party has been demanding that either the Chief Secretary or the Health Minister should address the people about the Chief Minister's health condition.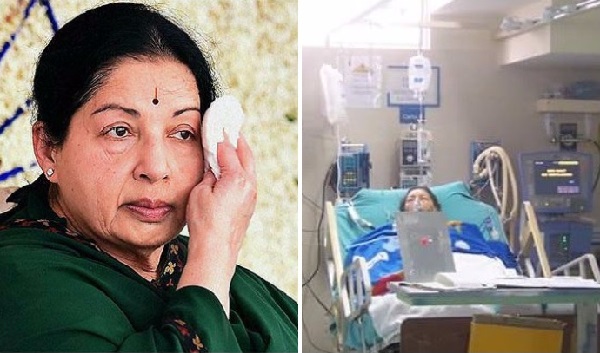 A Consultant at the London Bridge Hospital Dr Richard John Beale had examined Tamil Nadu Chief Minister Jayalalithaa at Apollo Hospitals in Chennai on Friday. Therefore a statement has been issued by the spokesperson of her party said," She is recovering well. We hope she is discharged soon. It is not necessary to release pictures of Jayalalithaa. We are answerable only to people, not the opposition."
Tamil Nadu CM Jayalalithaa Health Condition Live Updates
As she was hospitalised for many weeks the official announcement took much than required i.e. approximately more than 40 hours. According to the latest update, she was "responding well" to treatment but asked to stay in the hospital for a few more days. Since the party remained silent, this fire to false rumours and speculations about the health conditions Tamil Nadu Chief Minister Jayalalithaa, doubting whether she is literally ill or not.
People were having different opinions on this matter, opposition party leader, as well as the former CM of the state M Karunanidhi, questioned state government that a photo should be released in media featuring her in the hospital. All because was because she has attended a meeting of state officials on the Cauvery water issue. PMK's Dr S Ramadoss other opposition party leader also said that this silent behaviour and response of state government give rise to baseless rumours and worrying.
Tamilnadu CM Jayalalithaa Health Condition Latest News
Four police cases have been filed against people responsible for spreading senseless rumours about health conditions of the Tamil Nadu Chief Minister Jayalalithaa. Former actress and Chief Minister Jayalalithaa is one amongst the most talked person in the country. So it is a fact that people or opposition party member would have expectations from her side for being in the front line of Indian politics. People should remain well informed about different aspects of her life as well the health issue.
During this entire situation, not only the entire nation but the rival party were really looking forward to hearing about her well being. Rumours kept everyone guessing as to what will come next, and anything would happen to makes headlines.