Telangana government has earlier released notification for filling AEO jobs through TSPSC. Total of 1450 vacancies have been released which are to be filled in TS GENCO and TS TRANSO, 2 DISCOM departments. Huge number of job seekers have registered for these latest Telangana govt jobs. TSPSC has also conducted written examination for the applied candidates and released TS AEO results 2016. Some of the qualified candidates have also joined in the duties.
High Court Stay On Telangana AEO Recruitment 2016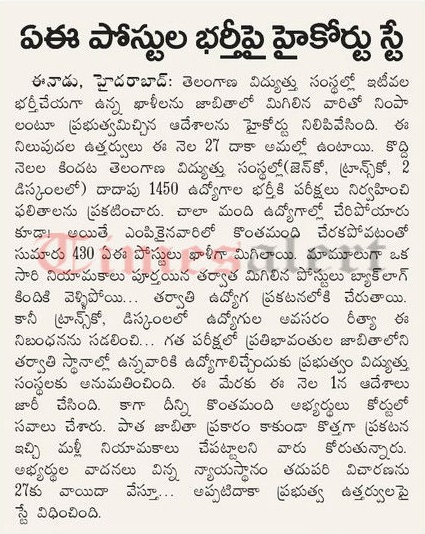 Now the selection process is completed and candidates joined in their respective departments, but some of the qualified candidates have not joined in their posts. Due to this a total of 450 AEO posts are now vacant. Usually once the selection process is completed the remaining vacancies will come under Backlog vacancies and will be included in the upcoming notifications.
Telangana TSPSC Teachers Recruitment 2016 
Telangana AEO Jobs 2016 High Court Stay
But due to the urgent requirements in TRANSCO, DISCOM this process has been put aside. Now the Telangana government has given permission to the departments to fill the vacant posts based on the qualification marks in the previous examination. The TS Govt has given order to select candidates whose score are next to the previously selected candidates and fill those 450 AEO vacancies.
Telangana Doctors Recruitment 2016
TSPSC AEO Recruitment 2016 Latest News
To begin this process, the Telangana government has given its permission to proceed on 1st June 2016. Now some candidates did not agree with this process and filed a petition in the High court. After going through the reports from both sides the High Court has adjourned the case to 27th June 2016 for further enquiries and gave stay order to government to hold recruitment process untill then