Telangana Chief Minister 'K. Chandrasekhar Rao' stated 'Grama Jyothi' has set a light that endorse till State transfer into 'Bangaru Telangana'. On Monday, as part of Grama Jyothi programme Chief Minister addressed grama sabha and made this statement during his speech in Karimnagar district at China mulkanoor village of Chigurumamidi mandal.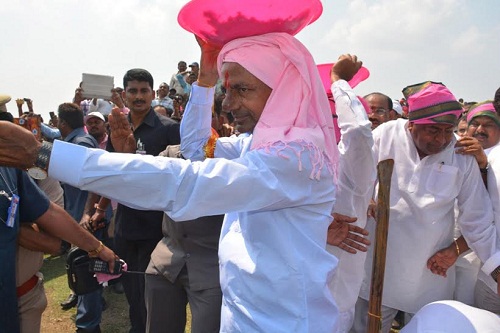 To make their active roles in villages development, KCR called upon all the elected representatives of Panchayat Raj system by ignoring political deliberations while addressing villagers.
Chief Minister said, "The Grama Jyothi programme is a continuous process till the villages are transformed. It is the duty of elected representatives to transform the villages, which were being neglected since Independence, and are turned into dust bins."
He then praised all contributors who came forward to donate their contribution for village development. KCR even craved elected representatives like MLAs, MPs, MLCs, Ministers along with district officials to play their active roles on the subjected development. He mentioned about people who were still shelterless in village and charged district supervision to identify land to construct two bed room houses to provide shelter to the villagers.
KCR stated he would visit village again in 10 to 12 days to lay stone for promised house scheme. CM KCR announced he would conduct huge medical camp with corporate hospital doctors beside eye camp along with distribution of spectacles and medicines. He persuade villagers encouraging them to take up dairy units and vegetable cultivation in village assuring them to provide irrigation sources to complete Husnabad Assembly fragment in two years. He promised to provide tap connection within six months to each and every household in the village.