Telangana TSPSC Teachers Recruitment 2016 : Deputy Chief Minister and Education minister of Telangana State Kadiyam Srihari has announced that government is planning to fill 16000 teacher vacancies in Telangana. Kadiyam Srihari has also mentioned TS government will be starting total 250 Gurukul schools this year. The complete details regarding the announcement such as qualifications, applications details are not yet declared. The official notification soon be released in Telangana Public Service Commission website and recruitment will be done only through TSPSC, there will be no DSC exam from this year. The details regarding the cancellation of TSPSC DSC exam is provided below.
Telangana TSPSC Teachers Notification 2016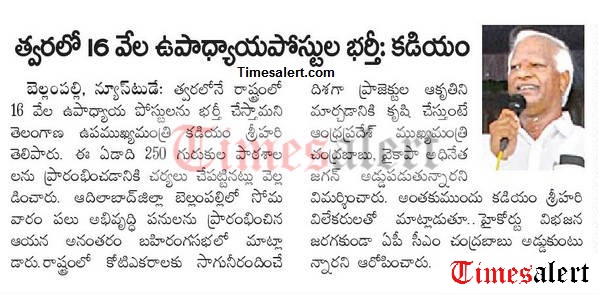 The Telangana government took a decision to cancel off the Teachers Recruitment technique through the District Selection Committee (DSC). It has pronounced to direct the Teacher Recruitment with Telangana State Public Service Commission (TSPSC). Ranjeev R. Acharya who works as Special Principal Secretary and also Telangana School Education Commissioner has passed a request in association with this concern. The current announcement was made under G.O No 19.
TSPSC Teachers Recruitment 2016 Latest Updates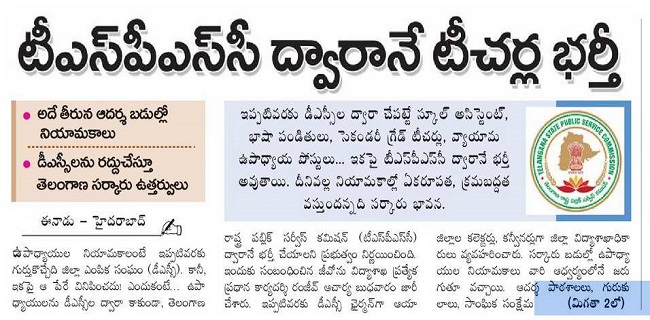 It is noteworthy advancement implying the decision that was appropriated by the Telangana state government considering the lines of the practicality of combining the immediate Recruitment System into TSPSC. It has been brought up by General Administrative Department. Uniting all Government Recruitment Divisions under one roof will benefit job finders. From now on, the state government chosen to take up the Recruitment of a wide range of teacher posts accomplished through direct recruitment by means of the TSPSC.
Telangana Teachers Recruitment 2016 Through TSPSC
Till now the complete Teacher posts of Language Pandits (LP), School Assistants (SA), Physical Education Teachers (PET) and Secondary Grade Teachers (SGT) vacancies has been allotted by DSC. Now the present decision turns down DSC, and in place of its government will enlist candidates through TSPSC. The declaration has been done to look after consistency, security. It aims for best selection strategies for Public Services.
Telangana TSPSC Teachers Recruitment 2016
To choose candidates for Civil Service Jobs the Telangana State Public Service Commission (TSPSC) was framed by the Constitution of India within Telangana State as per the benefits and now it is profiting Teacher Recruitment without DSC test.
TSPSC offers a good and effective working under the Government of Telangana by giving the appropriate possibility to different Government posts and exhort them on different administration services. The Commission was shaped on June 2, 2014, according to Andhra Pradesh Reorganization Act, 2014, Andhra Pradesh Public Service Commission split into APPSC and TSPSC.