Bollywood biggest star Amitabh Bachchan was chased by tiger on Tuesday for over 4 kms. Actor had a quite an exciting day in the when a tiger followed him Mumbai's Sanjay Gandhi National Park Reserve on yesterday.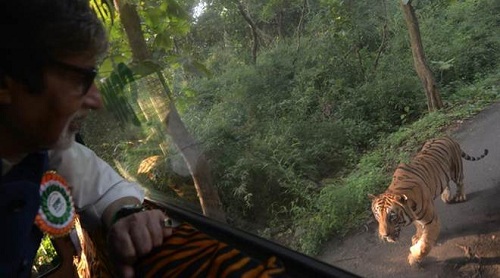 Mr.Amitabh Bachchan added,"In the company of the Big Cat, in the heart of the city. You cannot imagine the forests that abound in the heart of urban Mumbai. This tiger chased us for 4 kms, very unusual. They do not normally do this. It is in the SGNP Reserve, right within the Film City, where we work so often. Incredible!"
Big B visited the reserve for launching Maharashtra government's tiger conservation programme, who is serving as the brand ambassador for tiger reserve.
Amitabh was driving to the capacities to respect a week of this activities as a campaign, we have passed through portion of the thickest forests situated in the heart of the city. It is located in between surroundings of Film City. I myself have seen leopards lurking near our shooting locations, many of them were captured and sent back into forest. I have stayed for almost 45 years but never really had the chance to have a glance of this beauty. Amitabh Bachchan was most recently seen in Piku with Deepika Padukone and has Wazir with Farhan Akhtar coming up.