In front of Pakistan Cricket Board Chief Shahryar Khan's planned meeting with new BCCI president Shashank Manohar, 40 to 50 members from the Shiv Sena raged the headquarters at Wankhede stadium in Mumbai yelling mottos against Pakistan. The board presidents are meeting to talk about restoring cricket ties between the two countries.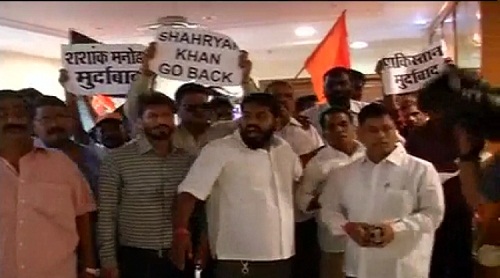 Shiv Sena activists gheraoed Shashank Manohar in his office before the meeting could begin yelled 'Pakistan hai hai' and conveying notices which said 'Shashank Manohar murdabad', 'Shahryar Khan chale jao'. They were conveying saffron flags of shiv sena and black flags to denounce resumption of Indo-Pak cricketing ties. Shiv Sena activists told Mr. Manohar that BCCI ought not resume ties with Pakistan as many pure innocent Mumbai natives lost their lives in the 26/11 terror attacks.
Mumbai police have kept hold of around 20 Shiv Sena activists. Police said they have brought the situation under control and bulked up security to ensure the protest does not repeat. It is likely that the meeting with Shahryar Khan could now occur in Delhi, rather than Mumbai said BCCI sources considering the protest of Shiv Sena. This is the second protest of Shiv Sena after the attack of black paint on Sudheendra Kulkarni on October 12 to protest against the visit of former Pakistan Foreign Minister Khurshid Mahmud Kasuri for book launch event. Earlier in between 2012 and 2013 India hosted Pakistan with the guests winning the ODI arrangement 2-1.