A trending topic which is going on social media is selection of Sachin Tendulkar son Arjun Tendulkar who got selected in West Zones U-16 team. Arjun Tendulkar was selected in the place of Pranav Dhanawade. A picture of Arjun Tendulkar and Pranav Dhanawade which went viral on social websites like Twitter and Facebook. The fact is that Pranav Dhanawade is not selected over Arjun Tendulkar. As Arjun Tendulkar was clean bowled in 12 overs and gave 52 runs were as in comparison with Pranav Dhanawade he made a record of 1009 runs in just 323 balls but he was not selected for West Zone U-16 team.
This pic Goes Viral On Social Media..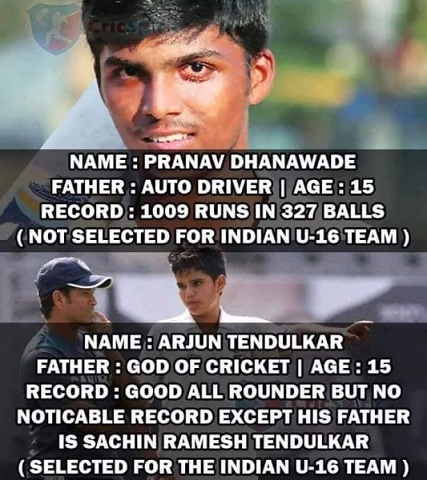 Arjun Tendulkar got selected in West Zone U-16 team for his presentation in Payyade Trophy. He played very well that is he scored century by taking four wickets in the match of Payyade Trophy. Pranav Dhanawade has not participated in this tournament. So this is the reason he was not selected for the team. The news which went viral on social Media is all wrong. This fact came out when Pranav Dhanawade father said that the selection of Arjun Tendulkar has been over long ago and his son made the score recently.
Arjun Tendulkar was selected last week On May 23rd by All India Junior Selection Committee. It is officially announced by Snehal Parikh who is the Baroda Cricket Association secretary. In a meeting Tushar Arothe, Shantanu Sugwekar, Samir Dighe and J Krishna Rao. But apart from all this there is a rumor saying Arjun Tendulkar was selected over record breaker Pranav Dhanawade. Pranav was not selected as he was not the part of MCA under- 16 team. This is the fact and reason behind the selection of Arjun Tendulkar for the U-16 team.
Arjun Tendulkar no were has comparison with Pranav as he is all rounder. Pranav played a record breaking match after the selection process. He says that it is completely a false story.