Telangana government has released TS EAMCET Engineering certificate verification and Tuition fee details. As per the Telangana government is planning to start Web options for Engineering counselling from 5th July 2016. After JNTUH declaring certificate verification details government will be deciding course fee and college fee. Telangana Government committee has conducted a meeting on Monday i.e on 27th June 2016 for discussing to take decision on Engineering colleges Tuition fee for next 3 years.
TS EAMCET 2016 Engineering Web Options from 5th July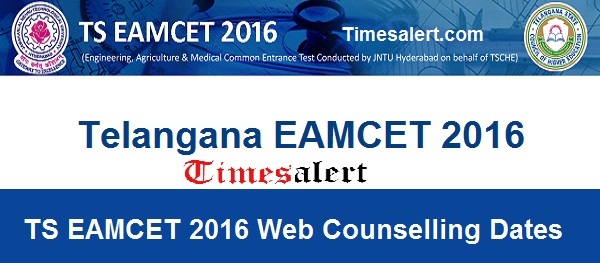 AFRC Committee chairman Swaroop Reddy, Principal Secretary Smt. Ranjeev R. Acharya, Chairman of State Council For Higher Education Tummala Papi Reddy decided to release fee details on July 2nd. JNTUH certificate verification dates will be announced on 30th June or 1st July 2016. On 2nd July committee will be taking decision on College fee and will be submitting the details to the government on the same day. Government will be releasing the GO on the issue on July 3rd after going through the submitted details. After government passing the GO the official are planning to start web option process from 5th July.
Also Read : Telangana Govt School Teachers Recruitment 2016 
The committee has come to its final decision, the minimum fee would be 35000 which is same as before. But the committee thought given amount has not meet the required budget and did not signed permission to 23 colleges. As per the news top colleges are included in that list
TS EAMCET 2016 College Tuition Course Fee Details
| | |
| --- | --- |
| Fees | Number of Colleges |
| Rs.35,000 | 69 |
| Rs.35,000 to Rs.40,000 | 8 |
| Rs.40,000 to Rs.49,000 | 63 |
| Rs.50,000 to Rs.59,000 | 46 |
| Rs.60,000 to Rs.69,000 | 17 |
| Rs.70,000 to Rs.79,000 | 16 |
| Rs.80,000 to Rs.89,000 | 5 |
| Rs.90,000 to Rs.99,000 | 14 |
| Rs.1,00,000 and above | 4 |
| Total | 242 |
TS EAMCET 2016 Courses Wise Fees
TS EAMCET 2016 Counseling Procedure
| | |
| --- | --- |
| Course | Fees |
| B.Pharmacy | Rs.35,000 |
| M.Pharmacy | Rs.57,000 |
| Pharma D | Rs.68,000 |
| B.Arch | Rs.35,000 |
| M.Tech | Rs.57,000 |
TS EAMCET 2016 Minimum Fee Colleges List
| | | |
| --- | --- | --- |
| Course | Total Colleges | Minimum Fee Colleges |
| B.Pharmacy | 140 | 60 |
| M.Pharmacy | 138 | 19 |
| Pharma D | 53 | 32 |
| B.Arch | 247 | 158 |
| M.Tech | 23 | 8 |