Twitter has added a new feature on iOS called "Who to Follow" on Friday that allows you to follow the other users that twitter thinks you would be interested in.
Twitter makes this suggestions to follow based on the factors such as history, uploaded contacts. These recommendations are created by an algorithm which means you may or may not know the recommended account or find them unrelated.
This new feature is placed at the central timeline, but the section remains inline as you scroll. It also noted that by chance if it recommended a person who is deceased, you can report to the support team and the company will remove the account from recommendations.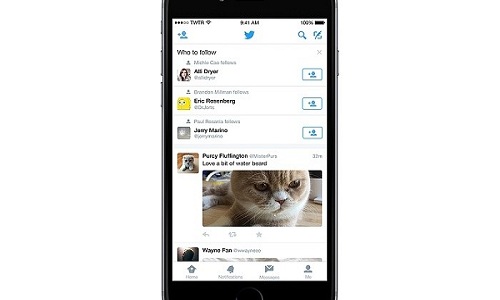 User's who do not want their account to be shown in Who To Follow can has the ability to control by making changes in the account.
1. If user does not want his account to be suggested to someone he can change his privacy and mobile settings by making his Email and Phone number Unexposed so that twitter cannot suggest his account to others.
2. Users can delete their previously uploaded contacts so that twitter will stop showing suggestions based on their contacts.
But just like 'While you were away' feature, you can close the entire thing by tapping the 'X' symbol.