Two Indian Institutes, Indian Institute of Science, Bangalore and Indian Institute of Technology, Delhi for the first time made it in the list of top 200 best Universities in the World.
IIS, Bangalore bagged the rank of 147 while IIT-Delhi climbed to 179 th rank from 235th rank last year.
According to the Quacquarelli Symonds (QS), there are totally 14 Indian Institutes in the World University rankings and nearly half of them are globally 400.
IIT-Bombay has been placed at  200, IIT (Madras) and IIT (Kanpur) were ranked 202 and 271 respectively.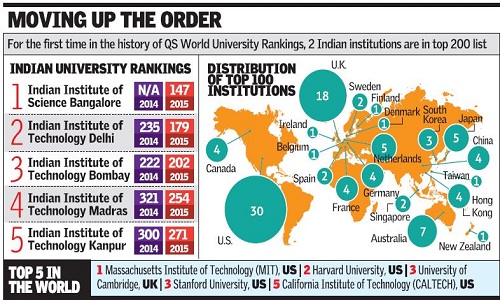 The Massachusetts Institute of Technology (MIT) is placed top in the list followed by Harvard University, The University of Cambridge grabs the third rank scoring the same with Stanford University.
In an exclusive interview to TOI, Ben Sowter, QS head of research, said, "India has two institutions in the top 200 this year, which has occurred as a result of QS evolving its methodology to be more even-handed across subject areas and it has revealed strength in research in engineering, technology and the natural sciences. If you want to compare India and China, the primary shortfalls are money and consistent policy leadership."
QS has been providing trusted, independent global rankings since 2004 and continue to head innovation and assessment of higher educational institutions world wide.
Some of the most outstanding UK climbers among the top 100 include The University of Warwick (48th), which is now among the world's top 50, Durham University (61st), University of St Andrews (68th) and the University of Southampton (81st).