U Mumba has dominated Pro Kabaddi league from the initial stage by registering 12 spectacular wins in 14 matches. U Mumba team seemed much in control during quarters when they faced Patna Pirates and swept off an easy win. Final match was tense and tickling when Bengaluru gave a good opposition to U Mumba team, However it managed to win over Bengaluru team with 36-30 win in Pro Kabaddi League final match played at the NSCI stadium,Worli Mumbai.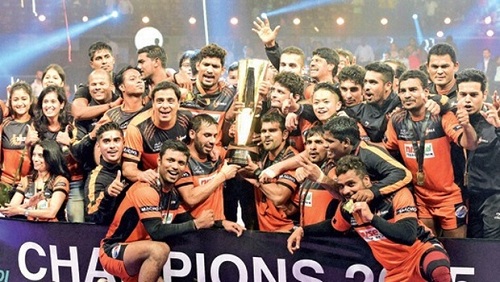 Stadium was filled with supporters for the home team to cheer up U Mumba team who were last years runners-up. They learnt from their last year mistakes and stream rolled into 2015 Pro Kabaddi final under captaincy of Anup Kumar. U Mumba team attacked Bengaluru team with safety first approach with their efficient riders – Kumar, Bapu adn Devadiga. Except Bapu none of them scored a manageable percentage excess than 40. Plan A din't seemed to be fruitful as it was fetching any dividends and shifted gears into defence by Vishal Mane which propelled Mumba's score to 16-8.
U Mumba's lead Anup kumar embraced trophy for crowds after winning Pro Kabaddi League title. Last years mistakes were well managed by the team as a whole, this title is dedicated to our fans we are truly overwhelmed by their amazing response. What ever we played in the final was not part of our game plan, and we are happy that Plan B worked for us. Shabeer Bapu and Rishank Devadiga have also played for the team win along with me, Said Anup Kumar addressing fans.