Federal Jury in the US state of Alabama has not yet reached to a verdict on the case against a brutal police officer, for assaulting Sureshbhai Patel, according to the reports.
After a day long discussion on Monday, the jury has watched the video of the February 6th incident several times in which the police officer slamming the 57 year old Indian grandfather to the ground, but they did not arrive at a conclusion and decided to meet again on Tuesday.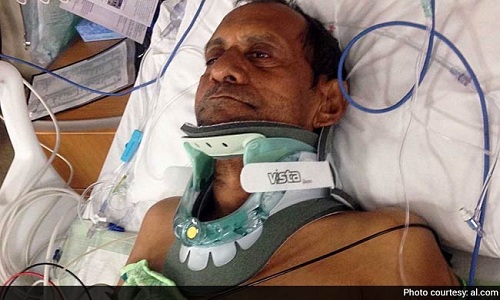 After the incident Patel has left partially paralysed and in need of spinal surgery. Parker, 27 was slapped with the suspension Huntsville Police and accused him for violating civil rights under the court of law. If he was proved guilty, he would face 10 years of imprisonment.
Patel, six days before the incident arrived to his son's house to live with him and was out for a walk when a neighbour called for the police about a suspicious man in the neighbourhood.
Police have testified Parker for and against him, some say that he had violated the policy and saw no threat. More testifying is it consistent with policy to take a non-compliant subject to the ground.
Parker's first trial ended in September as a mistrial.
US legislator had condemned the attack on Patel and described it as "horrible and tragic".