Videocon in collaboration with Microsoft has launched World's first  LED TV powered by Windows 10 Home edition out-of-the-box. This will be available in two variants 32 inches and 40 inches with a price tag of Rs.39,900 and 52,990 respectively.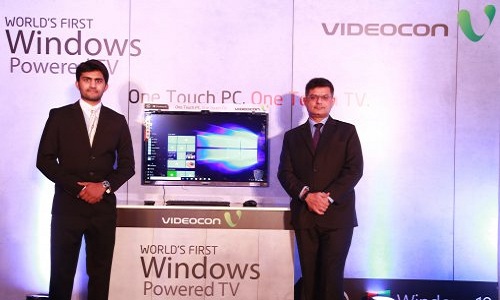 The company calls the device as One touch PC, One touch TV as it will function as normal TV as well as a PC. The TV is pre installed with all Microsoft applications which enables user to create and edit files, documents and presentations and share with others. It also provides access to social media tools such as Twitter, Facebook,Pinterest etc and it can be easily switched from PC to TV for entertainment.
Both 32 Inch and 40 Inch versions are powered by Intel's Bay Trail based quad-core chip clocked at 1.33GHz coupled with 2GB RAM and 16GB of expandable storage. On its connectivity options 32 Inch variant supports 2 HDMI, 2 USB, VGA and audio I/O port while 40-inch model has 4 HDMI, 3 USB, VGA and audio I/O port.
Mr. Akshay Dhoot, Head of Technology and Innovation, Videocon during the launch said "We are extremely thrilled to announce the launch of world's first Windows 10 powered TV. In these changing times, we realized the needs of our consumers of having easy access to technology at their convenience and therefore we designed world's first hybrid TV cum PC. With this TV, students can now easily create & share school assignments, home makers can curate and share recipes with the world, and professionals can work outside of their offices. This is one product that every member of the family can use regardless of their age".
These TV's will be available at all videocon dealers and leading offline retailers like Vijay Sales by November 2015.