BCCI Selection Committee is planning to finalize Indian playing squad which will tour South Africa recently. Sources confirm that Virat Kohli will be replacing Mahendra Singh Dhoni as Captain for the series, where India will play ODIs and Test series with South Africa. Indian selectors will be meeting up around September 15 to pick players who will be playing 72 days long tour from October 2.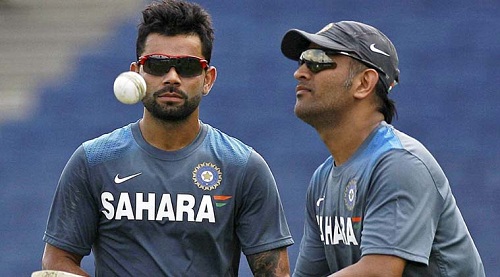 Selectors are keen on the fact that Captains leading the team with different strategies and difference in personalities will harm the team in long run and thus Virat will be selected as ODIs captain as well. However Dhoni will be continued as the captain for T20 format cricket, India is going to host T20 World Cup next year and Selectors are confident on Dhoni who has lead India into success in the past.
Previous selection committee has also proposed to select Virat Kohli as Captain for all the formats of the game. MS Dhoni cannot be ignored either as he is the most successful captain Indian cricket team has ever seen and Kohli is stepping stones to understand captaincy. Indian team will be playing whole lot of cricket in home land in next year, Kohli can bag the opportunity to prove himself. Dhoni has not played International cricket since June, it still stands unclear that will he be fetched with captaincy or not.