West Bengal Anti Corruption bureau has conducted a raid on Civil Engineer's house in Howrah on Friday and exhumed cash of worth Rs.20 Crore along with jewellery of Rs.14 Lakh hidden under floor titles, cupboards, sofa even in bathroom. This raid conducted by ACB in the house of sub-assistant engineer , Pranab Adhikari who is receiving a salary of Rs.45000/- per month is  working in a local municipality from the past 25 years was allegedly taking bribes at every opportunity he met.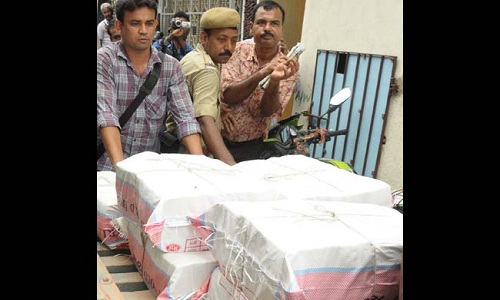 Following a complaint given by a builder named AP Singh a trap was laid on him and he was caught red handedly by taking a bribe of Rs.1 Lakh. He and his son, Tanmay were taken into custody and his house was searched on Friday. CBI had spent nearly 24 hours to calculate the amount of money unearthed and used three note counting machines.
The officials have suspected that apart from Adhikari there may be some other people who are involved in this racket. The name of former chairman Bally Municipality, Arunabha Lahiri's name is being heard in this racket,however he has denied the allegations.
State minister for agricultural marketing and Trinamool MLA from Howrah, Arup Roy said,
"We used to complain about corruption during the Left regime. Clearly development funds have been stolen. It is a crime and must be punished."
West Bengal ACB has cleared that some more raids may be expected today in the state.