WhatsApp is a client or platform for sending instant messages through smartphones. We can send text messages, photos, videos, documents,voice calling and also even audio messages using a mobile number of other users. It is one of the most popular messaging application. Whatsapp is now been used by million of users because of its easy access and most importantly its security features. It is then opted by Facebook and later many changes are done.
WhatsApp which is now maintained by Facebook has added some additional features for Apple users that is for iOS. The additional feature which is added to WhatsApp is we can automatically store the media files sent by specific user or group in the gallery. Apart from this, it also added some more features to increase the user experience.
New Features In Whatsapp For iOS Users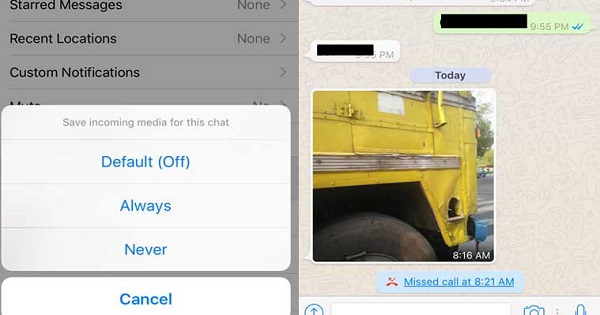 A new feature which is added to Whatsapp, specially for iOS users is to store the media files like videos, audio messages and images by particular person or group directly into the gallery. Before Whatsapp media files are stored which are sent by all the users. So now we can story only the specific data that is according to our requirement and we can disable the images sent by unknown users. Few days later it also added one more feature that is text formatting. Here we can type the text in different formats that is in bold or italic. Addition to this it also added Google Drive Document Sharing.
There is a new option for iPhone Whatsapp users. By default they can select Never or Always to store the media files directly into gallery. If they select Never then the person who is sending the media files will not be stored in the gallery and if he selects Always then all the files stored into gallery. Other most interesting feature of iPhone Whatsapp user is it will show the notification messages to reply instantly. Another advantage for iOS users is they receive missed call alerts during personal chats.
These advantages given to iOS users is soon applicable to Android users but it takes some more time. Recently for Android users Whatsapp had introduced PDF sharing in chat conversation that is to share some particular documents through chat. This feature is also now added to iPhone users.
Another update for iOS users is by using Whatsapp they can send files from Google Drive and Dropbox. In this month they also received an update from Whatsapp that they can zoom in or out videos during play. Facebook, who is now the owner of Whatsapp has an idea to introduce video calls.
New Features In Whatsapp For Android Users
Whatsapp also had some updates for android users that is while we are deleting the chat conversation we can store starred or important messages. To use all these updates, install or update Whatsapp in Playstore.