Google has introduced a new feature that allows the Android users to backup/restore their chat data in the Whatsapp suddenly if the phone goes kaput. This new feature helps user to backup the chat messages, voice messages, Photos, videos to Google Drive by ensuring that the data is safe and the user will be able to restore it into new phone in just couple of seconds when Whatsapp is set up. The user can choose the back up option to tell Whatsapp to create backup daily,weekly or monthly backup.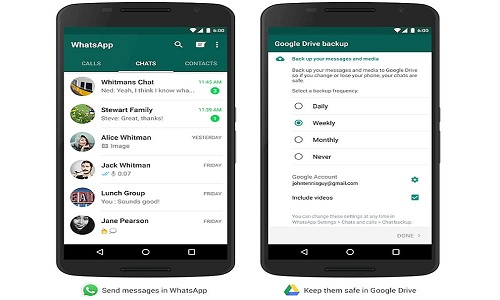 "Whether it's recounting a story, watching a video, or enjoying photos with family and friends, our memories help us reconnect with what's really important," Google Drive director of product management Scott Johnston wrote in a blog post. "And every month, nearly a billion people use WhatsApp to do just that. Of course: you don't want your memories stuck on your phone. (What if something happens?!)."
The backup option will be found under WhatsApp Settings > Chats and calls > Chat backup. User can also choose to backup using Wi-Fi or Wi-Fi and Cellular data. It also enables user to turn off automatic backup option.
Whatsapp currently has more than 900 million users, this new feature is an easy way to backup your data with encryption for added security.
This new feature is rolling out in the next few months in the Google Play store and once available it will appear in the Whatsapp settings.
Earlier Google has introduced a backup option is made available in April via APK download but it was removed shortly after.