On Wednesday, WhatsApp rolled out a new version for iPhone users within less than a month after Android app upgrade, which brings a set of new features and improvements. The very popular WhatsApp Messenger app (version 2.12.5) of iOS new update will be available at App Store.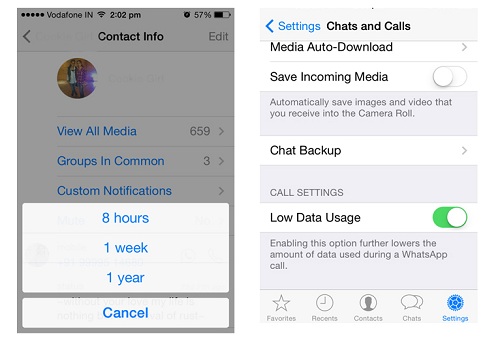 The updated iOS WhatsApp app get new features such as backup option in videos chat, sharing location, lets users to mark chats unread/ read, improved Voice Over support, individual chat customization and as well as mute support — which is available when swiping chat in the chat list from right to left. WhatsApp users now will available to share contacts instantly from the Contacts app, and advanced the outline for cropping images and videos, and also lets user share locations in Apple Maps to contacts in WhatsApp. With these new upgrade earlier messages automatically loads of an active chat on scroll.
Moreover, the updated app features seem to have already rolled out on Android earlier a month ago and are now brings custom notifications settings for individual contacts or groups. The notification bars includes options to mute chat as well as new custom notification option allows user to select custom options for tones, vibration length, popup notification, and others.
Updated WhatsApp Messenger for iOS 2.12.5 is now available in the App Store on iTunes, lets users to attach video in their chat backups and more. Reportedly application works fine on iPhone5, iPhone6 and iPhone 6 Plus as well, it is compatible with any other iPhone device which have iOS 6.0 or higher version.