WhatsApp Messenger Without Internet: WhatsApp Messenger application is world's no 1 messaging app. Almost everyone in the world is now using whatsapp in their smartphone. WhatsApp started as a simple free messenger and reached to top position in just a few months due to its user friendly and unique services to users. WhatsApp has now become part of everyone daily life. Everyone is so obsessed with WhatsApp that they cannot live without Whatsapp.
Use WhatsApp Messenger Without Internet
Its a joyful moment for all WhatsApp users across the world, as now we can use WhatsApp messenger even without any internet connection on smartphone. Yes you heard it right ? its not a hoax and you need not to download to download any third part application and its not illegal procedure. Rejoice WhatsApp users now you need to worry about wife connections, date charges to use WhatsApp messenger on your smartphone.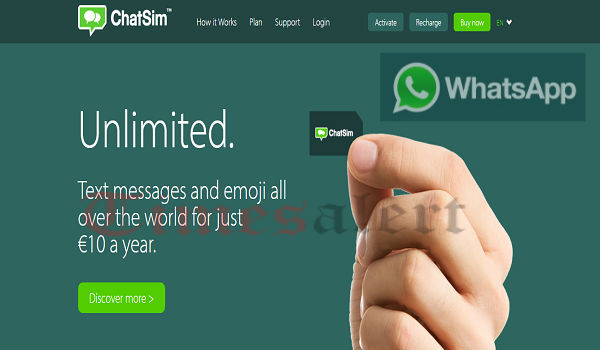 To use WhatsApp messenger without internet connection on smartphone first you need to log on to chatsim.com and purchase a Chat Sim. chatsim.com company is providing chat sim with which you can use whatsapp messenger without internet connection on smartphone. To but Chat Sim, you have to pay 10 Euros i,e approximately Rs.745 in Indian currency
Also Read :  WhatsApp Enables New Features
How to use WhatsApp without Internet connection in Smartphone
Additional amount of 10 Euros has to be paid for usage charges and 10 Euros for using validity up to 1 year and text & emoji options. You have to pay extra charge for using multimedia package such as sharing images, videos or making call. WhatsApp Multimedia pack for this chat sim starts from 10 Euros for which you get 2000 credits. With 2000 credits you can make 80 minutes of WhatsApp call or send 40 videos or share 200 photos. You can also purchase multimedia pack of 5000 credits or 10,000 credits for higher costs.
How To Buy Chat Sim in India
If you want to but Chat Sim in India you need to pay extra shipping charges of 7.50 Euros which is approximately Rs.560. Users who travel abroad Chat Sim is a better options that paying a hefty data charges