World Fattest Child: Arya Permana is a 10- year old kid who is facing extreme obesity from childhood and weights 192 Kg. He is from Chipurwasari village at Arawag Regency in Indonesia. Due to his over weight he stopped going to school. He cant walk even a little distance. Apart from these he also can't breath properly. He sits leaning to the wall which helps him to take breath. This results a mark on his forehead. Because of his over weight his parents cant find clothes to wear and he presently wears only a sarong. Arya parents are worried about his health condition and now they are following crash diet in order to save his life.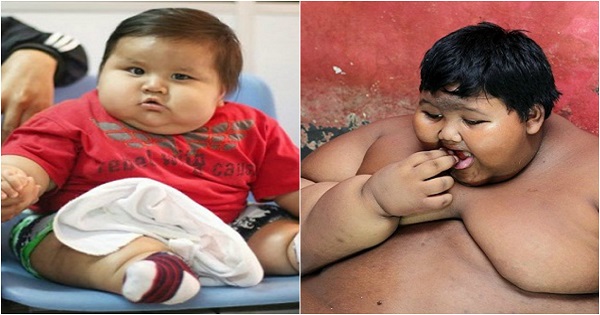 Fattest Child In The World Video
Arya takes five meals a day which comprises of Vegetable Soup, rice, beef, fish and a Tempeh which is a soy patty that normally used to serve two adults. Arya's mother Rokayah Somantri said she was most worried about his son's health condition. She also stated that the only thing to stop gaining weight is to reduce the diet he is taking so far. He often spends his time on eating and sleeping. Apart from this he plays in his bath tub for few hours. Hope Arya should recover soon and go to school like normal children.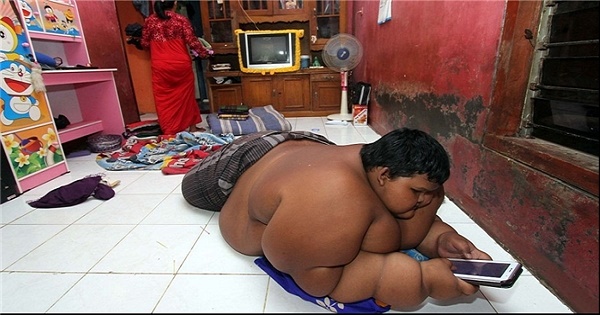 World Fattest Child Photos
Arya's father was a farmer named Ade Somantri and Arya was born to them as normal birth weighing 3.2 Kg. Arya is the second son of his parents and his elder brother name was Ardi. His parents felt he was healthy and happy after his birth. But few years later his weight went on increasing and they thought it is an disorder and he requires a medical treatment. Arya parents took him to many hospitals in their home town but doctors are unable to find the reason behind his weight gain.
256 Years Old Man Reveals His Life Shocking Secrets
Fattest Boy In The World Video
Arya also been fasting for Ramzan Season. But due to his health condition he is forced to stop by half a day. He stopped the fasting due to severe stomach pain. Arya is facing childhood obesity which is a complex health issue rarely occurring to children and cause over weight. The main reasons for this is physical activity, community environment and genetic hormonal factors.