A Chinese electronic manufacturing company Xiaomi is founded in the year 2010. It is noted to be the 5th largest smartphone maker in India. Xiaomi not only manufactures Smartphones but also some electronic gadgets. It launched first smartphone in August 2011. By 2014 it sold 60 million smartphones all over the world.
Xiaomi Mi Max Phablet with 6.4 Display
Now Xiaomi is going to launch a new smartphone in 2016 named Xiaomi Mi Max in India. It is coming with a huge display that is 6.4-inch. The leaked news confirmed the display size and design of the smartphone. Later it launched a teaser revealing its front panel which confirms about it display and design. From the teaser we can see a logo on the top left of the mobile.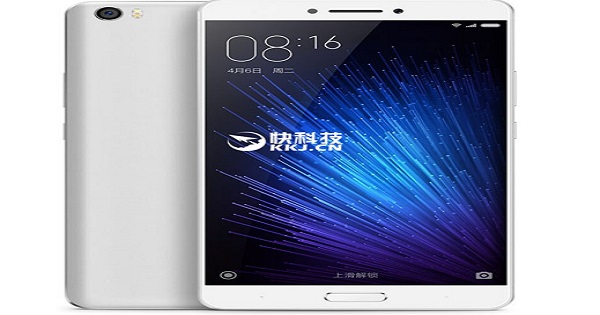 Xiaomi Mi Max Phablet Features
The new handset is comprised of Baymax-style design with some sensors, camera and earpiece on the front side. Coming to its appearance its edges are cut to make a symmetrical sloping edges with metal finishing. Mainly they choose larger screen to target the users who want larger screen devices. Coming to  connectivity options it comprises of  WiFi, Bluetooth, GPRS and micro USB.
Xiaomi also conducted online poll for the selection of name of the device. The options include four names they are Xiaomi Pro, Xiaomi Plus, Xiaomi Big and Xiaomi Mi Max. Many polled their votes and the device name is fixed as Xiaomi Mi Max. The device is similar to Mi 5. It is featured with a home button on the front panel and expecting a fingerprint scanner.
Xiaomi Mi Max Phablet Specifications
Display: It is featured with 6.4 Quad Hd display with a resolution of 2560×1440 pixels.
Processor: It is powered with Qualcomm Snapdragon 820 processor.
Battery: Battery used in this mobile is of 4000mAh.
RAM: It has 2GB of RAM.
Memory: Internal storage for this mobile is 16GB and can be extended using micro SD card slot.
Operating System: It runs on Android 6.1 version that is Marshmallow.
Camera: Rear camera is of 16MP and comin to front camera it is of 5MP.
Xiaomi Mi Max Phablet Price in India
The estimated price for the device Xiaomi Mi Max is approximately Rs 33,000. The device is going to be launched on May 10 2016. The event is going to be held at Beijing National Conventional Centre and Mi fans who are interested to visit the event tickets are available on the internet.